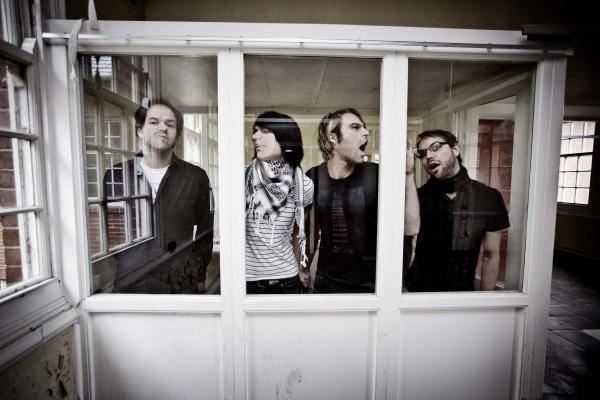 Tomahawks for Targets are a band from the north-east of England. They currently make music using voices, guitars, drums and keyboards. Any change in this will be self-evident. There are four human components in Tomahawks for Targets. Indeed, if one wished to be trite, one could pronounce the band 'Tomahawks four Targets', but time is short and such paronomasia is best left to the experts.
75% of Tomahawks for Targets proudly sport full British driving licences. The remainder knows his place.
James is the lead vocalist in Tomahawks for Targets. According to a Channel Four documentary, James was a submarine commander in a previous life. He is very keen to repeat the experience and is currently working on a Jurgen Prochnow impression. James also plays guitar in Tomahawks for Targets and is the bands Dear Leader™. When not working, James enjoys looking at something gorgeous.
The name of T4T's (hey, not every acronym works) drummer is David. Like most David's, David is quite happy to be referred to as Dave but draws the line at Davey. Dave has a silver award in swimming (unspecified distance and discipline) that he has used in the past to gain access to a number of international summits and inner-city clinics. Dave drives a red car and wishes that people would stop talking about Moe Tucker. He's never heard of him before.
Tomahawks for Targets have a multi-instrumentalist called Phil. He has recently graduated from a degree program about music. The rest of the band is in no doubt about how useful this is. Phil is talented and impressionable. He can therefore be exploited for a good few years before realisation dawns. Phil is also a member of a recently disenfranchised generation whose foreseeable future has been pre-ordained by the greed of others. Although Phil is not hugely concerned by his situation, the rest of Tomahawks for Targets are secretly glad that his employment prospects are bleak.
The most sanguine member of Tomahawks for Targets is Ross. He enjoys ten-pin bowling, country walks and the 'company' of animals.
Like the rest of our society, Tomahawks for Targets are unsure about whether Orwell or Huxley was right. As a compromise they have taken to describing the state of things as Kafkaesque.
Although they formed as recently as March 2010 Tomahawks for Targets have made good progress. They are currently putting the finishing touches to their debut album and composing the follow-up. It turns out multi-tasking is easy. They hope to dip their proverbial toe in the murky world of proper bands by self-releasing a single in winter 2010.
Like most bands, Tomahawks for Targets are resistant to the idea of their music being pigeonholed whilst appreciating that it is inevitable. If pushed to describe their sound, Drummer Dave may well extinguish his rolled cigarette and make a pronouncement along the lines of:
"It's kind of like what would happen if you combined the end of Flight of the Navigator with the beginning of Rocky III. It's melancholic and uplifting at the same time, buddy. Or maybe I'm thinking of Radiohead... and maybe I meant the end of the Elephant Man. No, the end of Flight of the Navigator was proper sad. We probably sound like a band that's trying not to sound like anybody else but sound a little like a handful of other really good bands by accident... and we might not have heard of some of those bands before but that's not our fault. That's just the way of the world. Do you know how I can get home from here?"
Indeed.
Anybody interested in hearing Tomahawks for Target via Sir Tim Berners-Lee's internet should go to: www.myspace.com/tomahawksfortargets or if you wish to be further 'closer' to the 'nitty gritty' of the band, type the band name into your Facebook search bar and you may well find you have the option to 'Like' them.