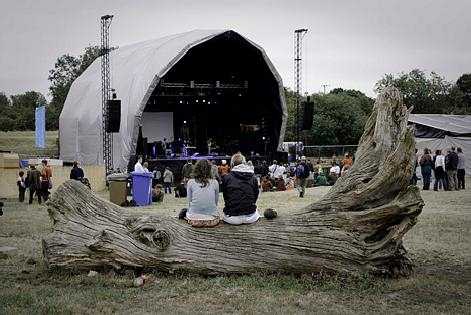 Standon Calling is getting ready to blow your mind, adding even more acts to the scorching music lineup, plus a whole host of extra-curricular activites, fun and games. Standon Calling 2012 looks set to be the most exciting yet!
The theme for this year's Standon Calling is Journey to the Ends of the Earth. The fields of Standon will be transformed into every unexplored corner of the world and your imagination, inspiring a spirit of discovery. Invent, create and discover yourself in the greatest adventure Standon has ever undertaken. And this is reflected across ever inch of the site.

Standon Music
Dropping some sparkling new additions to the lineup, Standon Calling is packed full of talent for 2012. White Heat curate The Cowshed on Standon Saturday, bringing art collective-turned-art rockers Breton, and funk-punkers CITIZENS!, among others. Psychedelic indie pop five-piece TOY join the throng, while electronic rock'n'rollers Bibelots bring some swagger to proceedings. There's also live conceptual disco duo Den Haan, country rock outfit The Barker Band, brilliant banjo music from This Is The Kit, emerging folk man Brendan Rogers and electric groove band The Thirst.
Standon Calling brings the block-rocking Main Stage, the non-stop party in The Cowshed, The Folk Stage, where folk finds its own, the late-night – and hidden – The Meantime Discovery Stage and the poolside Groove Garden.
Standon Calling's headliners are all thought-provoking and charismatic – with stage presence in abundance. Psych-prog rock hybrid Death in Vegas, beatbox, MC, musician and all-round vocal genius Beardyman and dub-funkers Fat Freddy's Drop are sure to bring the Main Stage to a standstill. In The Cowshed, Richard Norris's latest – and trippiest – exploration of the psychedelic side, The Time and Space Machine makes a special appearance.
Crazy P bring their fantastic live dance music show, catch Moshi Moshi's twinkly synth-poppers CasioKids, see Sunderland's engaging wonky electronic pop duo Field Music and sing along with Gabby Young and Other Animals. King Charles thrills with glam folk pop, Stealing Sheep continue the psych-feel, Dub Pistols showcase their new album, Bristol rockers Turbowolf up the ante, 'freak'-folkers Vadoinmessico do their thing, and dub-reggae-ska band The Skints skank it up.
At the Meantime Discovery Stage catch Shy FX, Toddla T, Julio Bashmore, Kode9, T.Williams, DJ EZ, Oneman,
Marcus Nasty and more, with Spectrum, Audio Doughnuts and Urban Nerds bringing the party.
Two For Joy Music and Owlsworld present The Folk Stage, with the sensational Willy Mason, singer-songwriter Jenny O., barn-storming Ceilidh hoe down collective Cut A Shine, Beans on Toast, Urusen, Scarlet & The Wilderness, Beatrix Players, Suburban Dirts and many more.
The Dig It Soundsystem portable soundsystem has become a favourite at Standon. The Groove Garden is a disco/chillout space set around a customised garden shed. Rockaoke returns – indulge your fantasies of being a rock star. The Beatbox Workshop comes from some of the UK's most exciting emerging beatboxers – an opportunity to learn basic mouth skills and participate in your own beatbox battle, and discover your potential. And that's just a snapshot of the musical explorations Standon Calling has in store…

Standon Life
Heritage Arts Company presents AN UNEARTHLY CHILD, a treasure hunt like nothing you've seen before, an interactive game for adults and children. The UnderCovers Literary Lounge returns to Standon (travelling on a specially converted narrow boat from Hackney to Hertfordshire), with poets, authors and comedians to entertain you.
Produce your own portraits at Ultra Large Format's darkroom Analogue Photo Booth. Pose in your costumes before the fancy dress competition and develop your own prints. Join Salon for an experience like no other, including among other fascinating lessons, a Virtual Autopsy with Suzy Lishman (vice-president of the Royal College of Pathologists), Summer Playlist with Rough Trade's Lucy Tesco, and Electro-Funk Roots and the Hidden History of Dance Music with Greg Wilson.
Autumn Shift: Performance, Cinema & Calm returns, offering peace and tranquility – a recovery and relaxation zone with massage, bellydancing lessons, jewellery-making, sock puppet workshops, a 48-hour film competition, lazy Sunday morning papers, open mic, discussions, nightly cinema, singing workshops, live film score, and all manner of treatments and yoga by the river bank. Or attend the Clare Trenchard Sculpture Classes for some therapeutic art lessons.
If you're feeling sporty – or fancy posing in your swimwear – Standon is the only UK festival with its own swimming pool, or join in the fun and games with obstacle courses and games on the lawn.
And that's not all – there's still EVEN more to be announced…
Standon Calling is a three-day party featuring musical icons, breakthrough acts, a swimming pool, themed fancy dress, an on-site nightclub, bars that never seem to close, sprawling arts installations, roaming interactive theatre and much more besides. It is one of the UK's most interactive and creative festivals and it's only 40 minutes outside of London.

Published on 04 July 2012 by Wayne Feltham