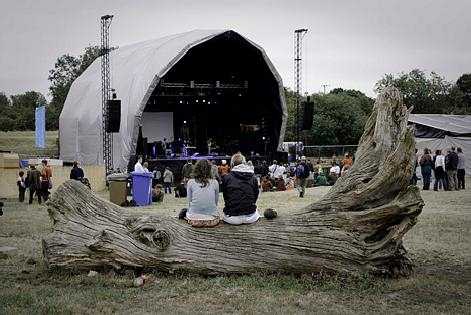 Standon Calling announces an exciting addition to this year's festival, The Meantime Discovery Stage, a new secret arena promising to be an all-out party SMASH! It's going to go OFF!
The Meantime Discovery Stage will be revealed on Friday with a BANG. A collaboration between Standon Calling and the Meantime Brewing Company – London's finest craft brewer – the Meantime Discovery Stage is a secret arena bringing together some of the very hottest names in electronic music!
Shy FX, Toddla T, Union, Pete Jordan and Neil Navarra host the Spectrum party on Friday. On Saturday things get HOT with Audio Doughnuts, with Julio Bashmore, Kode9, Dark Sky, LV, T.Williams, Pusherman, Shox, TOYC, Teeza, Orgy Banton and AD residents. And on Sunday Urban Nerds take over to send Standon Calling out in serious party style, with DJ EZ, Oneman, Marcus Nasty, Rattus Rattus and Daddy Nature.
Standon Calling is renowned for programming secret pop-up stages in unexpected locations. For 2012 there will be a number of secret and roaming stages, but the Meantime Discovery Stage is the biggest. Announcing the stage Alex Trenchard, Standon Calling founder said: "Our 2012 theme is all about discovery and adventure. We will be embarking on a Journey To The Ends Of The Earth in search of the very best in bass and party music. This stage is going to explode when it is revealed on Friday night, and we aim to create huge anticipation and speculation as to its location at the festival."
Spectrum is one of the UK's best underground club brands, having been at the top of its game for a decade. The multi-genre remit sees the world's best electronic artists combine for line ups that both inspire and cause serious bass bin damage. Expect BIG things on Friday. Leading the charge is drum 'n' bass super-don Shy FX – a true innovator and pioneer for dance music. BBC Radio 1 favourite and all-round smasher Toddla T joins the fun, while party-people Union go BIG. Spectrum daddy, founder and resident Pete Jordan is joined by Neil Navarra (powered by Skullcandy).

After a year and a half of parties, and having been voted one of the best club nights of 2011, Audio Doughnuts brings a unique take on dance music to Standon on Saturday. A twist and turn through house, disco, funky, garage, synth-led hip hop and bass music, AD brings Hyperdub label boss and renowned deep and dark underground producer Kode9, super-hot bass-house fusionist Julio Bashmore, bass upstarts Dark Sky, London trio LV and Deep Teknologi's house genius T.Williams. Then there's also AD's own Pusherman, Rinse FM's Shox, and Boiler Room favourite TOYC, plus Teeza, Orgy Banton and AD residents.
On Sunday Urban Nerds brings its arsenal of underground London bass bombs to The Meantime Discovery Stage! Over five years Urban Nerds has honed an all-out party sound, fusing the biggest dubstep basslines with everything and anything from grime, hip hop and reggae to UK funky and electro, for the ultimate party! Urban Nerds brings a slice of London warehouse madness to Standon, with legendary UK garage pioneer DJ EZ, dubstep and UKG evolutionary Oneman, UK funky don Marcus Nasty, Urban Nerds resident Rattus Rattus, plus Daddy Nature.
Standon Calling is a three-day party featuring musical icons, breakthrough acts, a swimming pool, themed fancy dress, an on-site nightclub, bars that never seem to close, sprawling arts installations, roaming interactive theatre and much more besides. It is one of the UK's most interactive and creative festivals and it's only 40 minutes outside of London.
This year will be bigger, better and brighter… Come together! The countdown begins!

Published on 09 June 2012 by Wayne Feltham