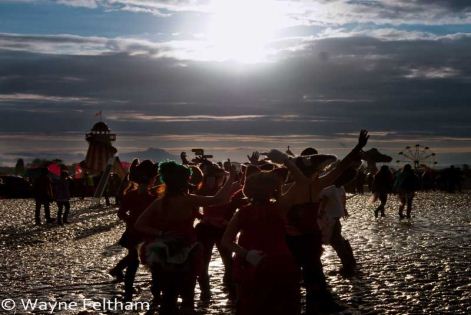 The Secret Garden Party is very pleased to announce its initial music line-up for 2013 with many many more still to be announced.
Famed for their immersive live shows and pioneering use of multimedia Belgian brothers David and Stephen Dewaele aka. Soulwax are confirmed as headliners for this year's Garden Party. In the decade since they released the ground-breaking compilation 'As Heard on Radio Soulwax Pt. 2' (under their 2ManyDJ's moniker) they've established themselves as one of the world's top electronic acts.
London (via Edinburgh) quartet Django Django enjoyed an incredible 2012 last year, culminating in a Barclaycard Mercury Prize nomination for their eponymous debut album as well as picking up the hallowed 'Best New Act' gong at the Q Awards in October.
Having sold out two UK tours already it's hard to believe that Bastille are yet to release an album. Their debut long-player 'Bad Blood' drops on March 4th and is one of the most eagerly anticipated releases of the year.
Hailing from Cavan in Ireland The Strypes are a group of 16-17yr-olds with a penchant for all things rhythm and blues. Having recently signed to Mercury Records and Elton John's Management company they can count Noel Gallagher, Paul Weller and Carl Barat amongst their rapidly growing legion of fans. The NME have named them as one of their most hotly tipped bands.
Head Gardener and programmer Fred Fellowes says:
'Every couple of years it seems that music bubbles up an endless host of new wonders in a relatively short space of time. In such a moment as this, we feel incredibly honoured to be hosting so many of these incredible new bands at the Garden Party. When added to the amazing new site works I really just can't wait for this year's SGP.'
For 2013 the Garden's beloved Artful Badgers have been given their very own new landscaped Amphitheatre to frolic in. This will be a dedicated space for feral theatre and games throughout the day and at night will be transformed into a space full of wild gatherings, ceremonies and ferocious celebrations. There will be new aerial walkways throughout these enchanted woodlands so that Gardeners can take a leisurely stroll amongst the towering trees - and spy on fellow Gardeners below.
This year's theme, 'superstition' brings the Black Cat Bar, which will be offering up the very finest of cabaret & cocktails, into the seductive spotlight.
The Garden's legendary Pagoda Stage will see further improvements for 2013. Along with a crème de la crème line-up of surprise guest DJs, this will include the new nearby Yacht Club Bar on the lakeside where Gardeners can sip on a sea breeze or take a boat out for a row. For those who have not yet witnessed the Pagoda's infamous allure, expect to be completely hypnotised by its magic this summer.
A major mover and shaker location in the Garden is the Temple of Boom, curated by Eddy Temple Morris, which will be returning back to its original home, south of the lake. Look out for the full outstanding line-up announcement coming soon for this stage.
The Feast of Fools has been given a new nest within a whole dedicated realm of interactive theatre, crazy games and workshops. The Woodburner is coming back with a new friend in the form of a beautiful alfresco gypsy caravan stage. And … 2013 sees the return of the much-loved Village Hall to the Garden… the villagers will be playing host to our new gravel beach lagoon, providing you with a place for high diving, paddling and lino lounging. Be sure to bring your most outrageous bathing suits... Hip Hip…
We are also delighted to be welcoming back the Oddball Dancehall, after its swinging debut last summer, as well as the much loved Small World Solar Stage for their 7th year in the Garden.
The Bearded Kitten's Collo-Silly-Um is back with a slight boost in size due to its ever-growing popularity and will be over-spilling with superstitious silliness this summer. This year it will be situated by newly landscaped rolling hills – perfect for suicide sports games.
Supernatural forces will take hold of the brilliant Dance Off Stage as we watch it shimmer, shake and expand into a beautiful, fully-power outdoor participatory venue for 2013. More Gardeners than ever before will be able to bust out their best moves and watch the greatest of party battles unfold.
Casting a spell over the whole Garden will be Secret Arts' incredible Lake Stage. Dance into the witching hours with some of the best DJs from across the land and row out to the middle of the lake to watch the sunrise together.
Last but not least, the Garden's favourite stages include the spellbinding Where the Wild Things Are, a mysterious, twisted area entangled in the finest new music; The Living Room – home to special one-off, intimate acoustic sets from some of the best singer/songwriters in the land; the Rumba Rum Bar, back by popular demand to bring you lashings of Ska, Latino and Reggae, all washed down with barrels of, yes, you guessed it, Rum. And the scandalous Crossroads, which showcases the very best rhythm and blues, soul and Americana on offer today, will once again be unleashing its voodoo magic on Gardeners this summer.
The campsites in the Garden will not be left untouched either, with plans for extra walkways and better access making the campsites even safer for everyone. Boutique Campers can expect a few new surprises too, ensuring that we offer Gardeners the best boutique camping experience this summer.
The reviving Sanctuary area will itself be re-imagined and revived this year. As well as offering a whole host of therapies and massage, Gardeners will be able to immerse themselves into a beautiful world of chill out vibes, rhythms and sunset sessions.
Great Stage / Where the Wild Things Are / Crossroads
Soulwax - Django Django
Bastille - The Strypes
Big Youth - Wolf Alice - Childhood – Eliza and The Bear
Public Service Broadcasting - Rodigan
Findlay – Mø – Roo Pains – Dan Croll
Lee Fields & The Expressions - Winston Francis
Skip 'Little Axe' McDonald – Son of Dave
Ava Leigh – The Family Rain – Ben Caplan
Deep Sea Arcade - Big Boy Bloater – Treetop Flyers
Annie Eve – The Ladykillers – Steve Hooker – Blackbombers
Unkle (DJ set) – Embrace (DJ set) - Evil Nine (DJ set)


The Temple of Boom -
Lovingly curated by Eddy Temple-Morris
James Lavelle (special UNKLE DJ set)
Embrace (DJ set) - The Correspondents (Live)
Evil Nine (DJ set) - Loadstar (DJ set) - The Other Tribe (Live)
Wilkinson (DJ set) - Foamo (DJ set)
Never Say Die Allstars (DJ set) - Josh Butler (DJ set)
Published on 27 February 2013 by Wayne Feltham