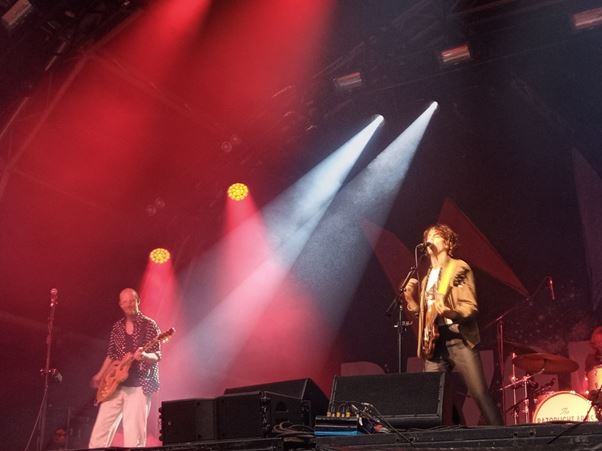 You'd happily wait two years for your team to win the Champions League. You'd happily wait two years to get your dream job. But waiting two years to go to a festival?
Sorry mate, that's just way too long – it's felt like forever! Summer 2019 may seem like a decade ago but outdoor music action is back on the cards again and we cannot wait.
Newcomers to the festival scene Gateways took a nice cheeky gamble by not cancelling back in spring time and boy did it pay off. Every punter partied like it would be their last. Every band played like their lives were at stake – we were all happy to be back and this is what we loved:
The Lightening Seeds
There must have been 30mm of precipitation during Ian Broudie and co's set – but nobody cared. The poncho party was in full flow and those with wellies on were clearly very pleased with themselves. After a magical set which culminated with a trio of Sugar Coated Iceberg, The Life of Riley, and Pure, Broudie announced, "We have time for one more – any requests?" Cue Three Lions and at which point Skipton became Bedlam and the festival climaxed.
Feeder
From Echo Park to Aireville Park – Feeder were mint although following Three Lions must have felt like Mission Impossible. Taka Hirose's prominent bass lines had the soaking wet crowd pogo sticking amongst a stunning North Yorkshire backdrop. Treats included Buck Rogers, Tallulah and the timeless lyrics of "I'm going out for a while, So I can get high with my friends." Feeder were very happy to be back.
Toilet to crowd ratio
Maths always comes into music and the toilet to crowd ratio is more important today than Pythagoras' Theorem. I can honestly say that in almost 25 years of festivaling, never has it been so quick and easy to make room for some more lager. Literally zero queues – a weak bladder heaven.
Scouting For Girls
The Skipton Building Society award for Best Frontman went to Scouting For Girls' Roy Stride. Stride chatted with the crowd freely and had the left half competing with the right half like it was an Olympic event. Killer single Elvis Ain't Dead flowed into then out of Elvis Presley's Can't Help Falling In Love then later on the band raised serotonin levels with a majestic cover of Whitney's I Wanna Dance With Somebody. It was pure joy.
Stuart in the pink jacket in the Gin Tent on Sunday
Big Stu was single handedly knocking out acoustic anthems whilst attractive females drank gin – not a bad combo. "What's the difference between humans and animals?" he asked us. This was not a science lesson but a cheeky intro to his rendition of The Bloodhound Gang's Bad Touch. Stu – you were class pal. Sorry we had to leave but Razorlight were coming on.
Razorlight
Johnny Borrell and co proper smashed it. Armed with an inventory of anthems, Razorlight knocked out classics such as Stumble and Fall, Golden Touch, In The Morning, Somewhere Else, America, and Before I Fall To Pieces – now that is some bag of tricks. They were beautiful and hedonism imploded; at least fifteen minutes of it felt like divine intervention. The only bad thing was it meant the end of the festival – or did it...?
The Fireworks!
Just as you thought it was game over, the festival organisers had one last treat for us all – a gunpowder plot that gave Sydney Harbour a run for its money. It was a captivating end to a successful maiden voyage for Gateways Festival. If you didn't think it was a belter then you deserve to wait another two years until your next fest.
Photo by Liam Atkinson
Published on 12 August 2021 by Duncan Whittaker