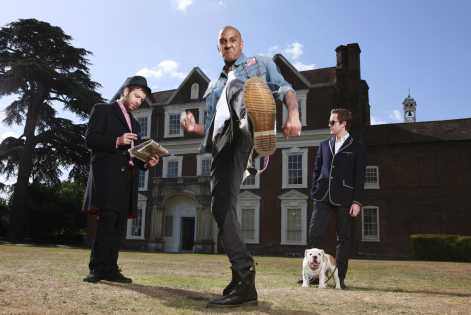 Set in the Parish of Trinity, in the rural heart of Jersey, Channel Islands, Jersey Live Festival sponsored once again by JT returns for its 9th edition this September.
With recent bills featuring unforgettable performances from the likes of DIZZEE RASCAL, THE PRODIGY, KASABIAN, PAUL WELLER, PLAN B, TINIE TEMPAH and MADNESS to name but a few, the festival has a track record of delivering huge line-ups, belying its 'boutique festival' status with a capacity of just 10,000 people.
Surrounded by lush countryside and just a short ride away from an abundance of beautiful beaches, Jersey Live with JT also holds the claim of being the 2nd most southerly festival in the British Isles - recently usurped by its sister festival 'Folklore', set just 3 miles south. Enjoying more sunshine than any other part of Britain and situated just 15 miles from the coast of France, Jersey is famed for its stunning beaches, lush countryside and uniquely Anglo-Gallic culture - and of course for the iconic 80s TV detective, Bergerac.
With an unspoiled landscape and proximity to the cosmopolitan capital of Jersey, St Helier, it's the perfect destination festival and Edith Bowman has described it as having "more pulling power than any other small festival", while Kasabian's Tom Meighan described it as "sexy, surreal and super cool!"
The Main Stage will be headlined on the Saturday night by award-winning UK dance heavyweights CHASE & STATUS, who return after performing lower down the bill at Jersey Live 2010. Their mix of drum & bass, breakbeat, dubstep and rock influences result in an explosive live show and if their previous appearance is anything to go by, they're likely to transform the festival arena into an all-out rave when they take to the stage on Saturday night.
Jersey Live with JT will be closed on the Sunday night by NOEL GALLAGHER'S HIGH FLYING BIRDS, the solo vehicle of the legendary Oasis guitarist and songwriter, in what is sure to go down as one of Jersey Live Festival's most memorable headline sets to date. Since the split of Oasis in 2009, Noel has
gone on to enjoy huge success, and with a number 1 UK album last October, a Brit nomination (for Best Solo Artist, 2012) and an NME 'Godlike Genius' Award earlier this year, his solo career has gone from strength to strength. As well as solo hits including 'AKA What a Life', Noel has regularly performed Oasis classics such as 'Don't Look Back in Anger' in his live shows, making this a headline set that is sure to be cherished by new and old fans alike. Performing just before Noel on the Main Stage on the Sunday evening are the seminal British rock band PRIMAL SCREAM. Fronted by Bobby Gillespie and featuring the newly-recruited former My Bloody Valentine bass player Debbie Googe (who replaces Mani, who has left to return to the newly-reformed Stone Roses), Primal Scream are rightly-regarded as one of the most important bands of the past 20 years, with the epochal Screamadelica heralded for its binding of rock and the newly emerging acid house genres, and regularly featuring in 'Greatest Albums Ever' polls.
Chase & Status are joined on the Saturday bill by three of the brightest members of the Brit-rap movement: firstly, the chart-topping PROFESSOR GREEN, who also returns after performing here in 2010 and whose hits include 'Need You Tonight' and 'Just Be Good to Green.' DEVLIN, since being nominated in the BBC Sound of 2010 list and as 'Best Breakthrough Artist' in the 2010 MOBOS, has established himself as one of the most talented rappers in the UK and with a new album set to drop imminently, looks set for a big year. MAVERICK SABRE completes the trio of UK rappers on the bill so far. Having collaborated with Wretch 32 and Chipmunk, he's well immersed in the UK rap scene but with a soulful, folk-orientated approach, his is an individual sound that definitely marks him out from his peers.
Also confirmed to perform on the Main Stage are revered British punk outfit THE STRANGLERS. The most enduringly successful band of the punk era, Classic
hits such as 'Peaches', 'Golden Brown' and 'No More Heroes' are amongst the highlights of a career that has spanned almost 40 years and spawned 17 albums and 23 Top 40 singles.
The festival boasts five stages in total: The Main Stage, where the big guns go head to head; The Dance Arena, which will host some of the world's hottest DJs and producers. Previous artists have included Kissy Sell Out, Annie Mac and Boys Noize; The Tease Stage is a themed stage featuring a mix of local and international artists, as well as a fancy dress stall (very much recommended to all that visit it) and games galore; The JT Stage hosts an array of local and international artists, and provides a more chilled-out area to recharge your batteries before heading out for more Main Stage action; The Hospitality Stage is available to Hospitality ticket-holders (see below for details) and features exclusive DJ sets throughout the weekend.
With plenty of bars, an entire food village, arts and crafts stalls and its own funfair, yet a capacity of just 10,000 daily, Jersey Live has all the
action of a major festival but all the friendliness and intimacy that its boutique status would suggest.
Jersey Live is heading towards a decade of unforgettable parties, and with many more acts to be announced soon, this one might just top the lot.

Co-organiser Warren Le Sueur:
"What a pair of headliners! There's not an awful lot I can add about Noel that people don't already know; he's a certified godlike genius, and he'll be playing a whole load of new music and classic Oasis songs; it's going to be very, very special! Chase & Status were just amazing here back in 2010 and they've gone on to become even bigger and better. We've got a history of having big dance acts occupying the Saturday night headline slot on the Main Stage including Basement Jaxx and Groove Armada in previous years, and C&S are the perfect fit."
Tamara O'Brien, Head of Marketing, Brand and Distribution at JT added:
"We are very proud to be able to continue our partnership with Jersey Live during 2012. The festival really has made its mark and we are delighted to play our part in its continued success."" Mrs. O'Brien continued: "JT's relationship with Jersey Live enables us to create rewarding offers that enables our customers to get free weekend tickets, which means islanders can be guaranteed that they don't miss the Channel Islands biggest event of the year. More importantly the relationship is between two organisations that have the community at their heart, and who have once again joined together to bring world class music talent to the islands."

Published on 13 May 2012 by Wayne Feltham