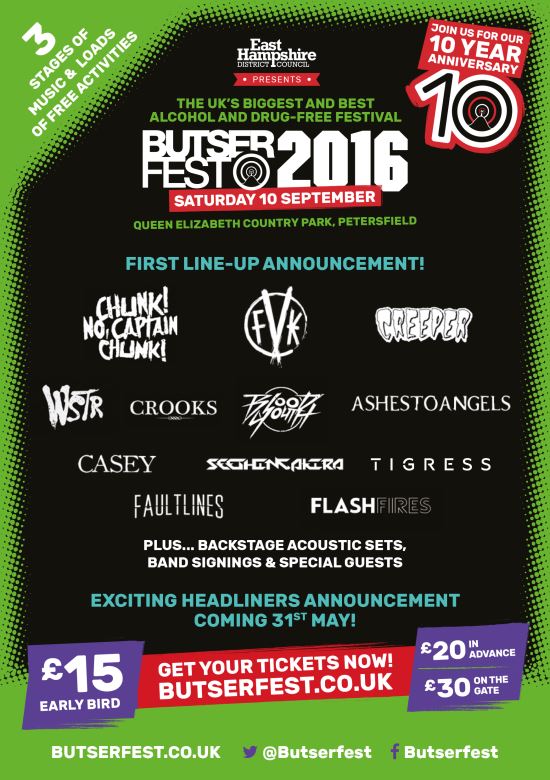 It's Butserfest's 10 year anniversary this year and they have got what we think is our best line up yet.
Butserfest is 10 years old! And over the last ten years music lovers and young people from across the UK who have travelled to Queen Elizabeth Country Park have been treated to incredible sets from home grown bands of all genres, rocking out on one of our stages. We've seen established UK rock, pop and metal acts wow our audiences year after year, we've seen up and coming bands grow with each new invite to come and play again, and we've seen local bands and musicians showcase their talents.
It's a great day out not just for young people but for families of all ages, with so much to do and see, all in the beautiful setting of beautiful Hampshire countryside. With not one but 3 stages of music all day, a high adrenalin 'activity zone' jam packed full of brilliant free activities, including the brand new addition of a zip wire for 2016, backstage acoustic sets from some of our billed bands, artist signings and a whole host of on site traders and community stalls this year we're pulling out all the stops to bring you the biggest and best Butserfest yet.
We're delighted to announce the first twelve bands who will be gracing our stages this year. They include French hardcore pop punkers Chunk! No Captain Chunk, new grave rockers Fearless Vampire Killers and Ashestoangels, the much in demand Southampton punk outfit Creeper, pop punkers WSTR, alternative rock bands Crooks and Casey, melodic hardcore boys Blood Youth, local electronic rockers Seething Akira, female led rock outfit Tigress, melodic metalcore band Faultlines and our Introducing Stage winners from 2015 Flashfires.
Published on 08 April 2016 by Ben Robinson