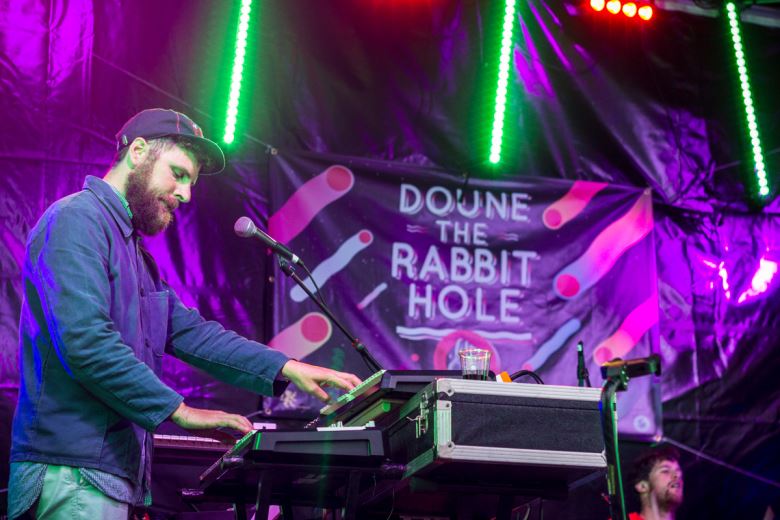 Doune The Rabbit Hole, one of Scotland's most intimate music and arts festivals, has revealed its line-up for this year. Scottish favourites Admiral Fallow and Treacherous Orchestra as well as Welsh Songstress Cate Le Bon will all be performing at the three day event.
Image by Mathieu Cartier
Other newly announced acts include a whole host of Scottish talent including C Duncan, Mungo's HiFi w/ Solo Banton, Colonel Mustard and the Dijon 5 and Emma Pollock, amongst others. Adding a splash of international flavour to the line-up is the Italian longtime tropical and jazz DJ, Clap! Clap!;Rough Trade signee, Jeffrey Lewis & Los Bolts; and Japanese duo, Sax Ruins, featuring worldrenowned drummer Yoshida Tatsuya. Not to mention the masterful Awesome Tapes From Africa who has performed coveted slots across the world including many a Boiler Room session, London's Café Oto and our very own CCA in Glasgow.
Described as 'heaven' by Clash Magazine, Doune The Rabbit Hole has been named among the best of family-friendly festivals by the likes of The Herald and this year will be no different. Having started life in 2010 near the town of Doune (hence the name!) the festival has since moved to Cardross Estate. Set near the tranquil Lake of Menteith (Scotland's only one!) and within beautiful parkland grounds, the festival will not only host a variety of local and international acts but will also feature an activity-packed children's area and a dedicated family campsite. As well as this, Doune the Rabbit Hole has also been lucky enough to receive funding from EventScotland to help celebrate the Year of Innovation Architecture and Design. This grant will be used to bring a selection of artists and architects together to design and build a brand new stage and will feature an eclectic programme of new, innovative music to be curated by The Tolbooth in Stirling.
Doune The Rabbit Hole has previously hosted a diverse bunch of acts from Glasgow indie icons The Pastels and SAY award winners Bill Wells & Aidan Moffat through to Optimo's JD Twitch and post-electro outfit Errors. The festival is set to return with a spectacular multi-arts bill over the August bank holiday weekend featuring an eclectic mix of acts across a carefully curated line-up.
Line-up so far:
Admiral Fallow, Cate Le Bon, Treacherous Orchestra, Mungo's HiFi w/ Solo Banton, Jeffrey Lewis & Los Bolts, C Duncan, Colonel Mustard & The Dijon 5, Blanck Mass, Richard Dawson, Clap! Clap!, Awesome Tapes from Africa, Emma Pollock, Bombskare, The Destroyers, Sax Ruins, Mickey 9's, Shopping, BABE, De Rosa, Rozi Plain, Iona Fyfe Band, Pigs Pigs Pigs Pigs Pigs Pigs Pigs, Vasa, Sound of Yell, Woodenbox, Jo Mango, Bossy Love, Teen Canteen, The Crying Lion, Howie Reeve, Honey & The Herbs, Massicot, Urang Matang, The Creeping Ivies, Glad Community Choir Sings Bowie, Cairo Liberation Front, Upjumped Brass Band, Samedia Shebeen DJs, Hannah Lou Clark, Møgen, Alien Lullabies, Raza.
With an event capacity of only 3000, Doune The Rabbit Hole organisers pride themselves on being one of the country's smallest festivals, giving the event a uniquely intimate and friendly atmosphere. Families are warmly welcomed at the festival with tickets for children aged 12 and under available for free, so all ages can experience the range of activities over the course of the weekend.
Jamie Murray, Director of Doune The Rabbit Hole Community Interest Group, said: "There is a real sense of community-spirit at Doune the Rabbit Hole and I guarantee you make friends for life. It is pretty rare to find an event that embraces a family-friendly culture whilst celebrating some amazing music from all genres. Where else would you see everyone, from toddlers to pensioners soaking up a festival atmosphere?"
Paul Bush OBE, VisitScotland's Director of Events, said: "We are delighted to support Doune the Rabbit Hole in 2016 and are confident event organisers have, once again, secured a line-up that will draw attendees from all over Scotland. Doune the Rabbit hole demonstrates exactly why Scotland is the perfect stage for music events by providing the opportunity for music lovers to witness terrific home-grown and international talent while enjoying a unique family-friendly atmosphere and stunning scenery."
Festival Date: 19th -21st August 2016
Published on 07 March 2016 by Wayne Feltham