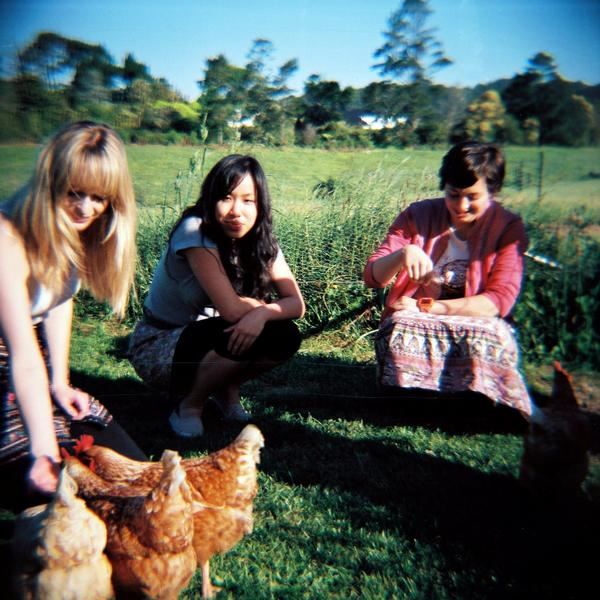 There are more than one act called Teacups.
1. The three charming young women of Teacups considered calling their first release The Sexy Night-Time Show but in an unfortunate change of heart, altered it to Forest Fiction. In retrospect Forest Fiction may be a more appropriate title, but you should listen to the album and decide for yourself *needlessly saucy wink*.

Teacups first began to form when Elizabeth Stokes and Chelsea Jade Metcalf began to busk to earn enough money for a moderately-priced vegetarian dinner. Outside their local Nike store they'd perform - though none of the songs in their repertoire were sports related. They found themselves exclusively regurgitating the tunes from Jenny Lewis record Rabbit Fur Coat and improvising ditties about passersby when they finally realized nobody was actually listening.

Like the songs on aforementioned album, Teacups were to demonstrate a ridiculous talent for pretty guitar melodies and wafting tri-part harmonies. But before they were able to hone their craft they were booked sight unseen by the eventual future producer of Forest Fiction Dave Parker (Artisan Guns, Bear Cat, Clap Clap Riot) – leading to their first real performance in the beautiful Spegieltent for the AK07 festival. Between then and the next show they added upright bassist Talita Setyady and Teacups were ready to win hearts at six times the capacity of the average human being.

They're a modern-day girl group, echoing the swooning charm of yesteryear and finding time to write a winning ode to Harry Potter called 'Lily's Eyes'. Teacups' songs walk your pleasure bicycle (no bmx/mountain bikes allowed) through daydreams, around lakes, under quilt forts near fireplaces, and into starscapes to sip flasks of sweet tea on an autumn day, en route to hearts broken and mended all the same.

On Forest Fiction you'll hear the bouncy single Magic, which featured on Real Groove's Awesome Feeling III compilation and a Massey University television advert. There's the yearning Wave At Me From Across The Sea (which deserves to adorn many a long distance mixtape), the secretly sad French forays of 'Mon Petit Poisson Avec Beats' prior to Chelsea receiving any (much-needed) pronunciation lessons, and the melancholy wordplay of the subtly devastating Patches.

Offering home-made cupcakes along the way, Teacups soon found themselves opening for Jose Gonzalez, Cat Power and Kimya Dawson, while also finding time (they're usually very busy laughing at cat pictures on the internet) to play with local friendlies Lawrence Arabia, Artisan Guns, Bear Cat and the like. Additionally, they once hired a petting zoo for a fun afternoon and were dismayed when they weren't allowed to ride the pony.

Teacups are now contemplating ways to play their songs to the dinosaur skeletons at the museum and wondering if one Harry Potter song is enough to get them to the next Harry Potter convention in Texas. They are wonderful young women with impeccable manners and can be reached for interviews and such promotional duties on the contact details below.
2. Teacups are an English folk act.
Comprising the singing talents of Alex Cummings (Dyer:Cummings, James Findlay), Kate Locksley, Rosie Calvert and William Finn the a capella foursome have been creating a storm across the UK festival circuit in the past 12 months with critically acclaimed performances at Shepley Spring Festival, Beverley Folk Festival, Warwick Folk Festival and more.
Their debut album, 'One For The Pot' explores traditional and contemporary songs from all over the British Isles and beyond with a sensitive and lyrical approach to arrangement. The opening track 'As I Roved Out' sets the bar for the quality and skill of The Teacups' arranging and the subtle nuances continue through the album. Old favourites like 'Lincolnshire Poacher' weave seamlessly with the more contemporary in 'Ripples', whilst tracks like 'Country Life' provide excellent sing-along choruses.
Folk Indie