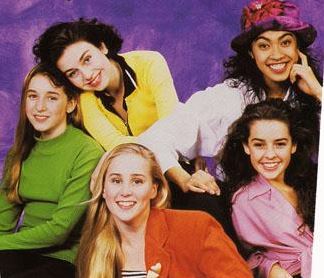 There are 2 bands using this name 1) an australian 2) a danish
1. Jacqui Cowell, Siobhánn Heidenreich, Robyn Loau, Lorinda Noble and Melanie Alexander formed Girlfriend. After a year of self-promotion, the group signed to BMG in 1991, and became an "Overnight Sensation"! Their debut' single "Take It From Me" becoming a Number One smash hit and one of the highest selling Australian singles on the ARIA charts for the year ending 1992.
The fantasy of teenage boys and idols of teenage girls, Girlfriend adorned the cover of teen magazines across the country. As their popularity continued to rise, publicity was high, as was public demand. Shopping centre appearances would see the girls mobbed by their fans! Success continued with their second single "Girl's Life" becoming a top 20 hit also.
Girlfriends album "Make It Come True" became certified Platinum by the ARIA Charts, and their third single "Without You" also became a Top 20 hit. Girlfriend further impacted on Australia, this time in the fashion world. Their trendy style and funky attire help launched their own fashion label available through Myer. "Make it Come True" had another 2 singles released from the album. "Bad Attitude" and "Love's On My Mind" secured the bands success, enough to see the girls head over seas to Europe, where they enjoyed moderate success. However it was Japan that embraced the group as their own. So much so that Girlfriend re-recorded the single "Take it from Me" in Japanese. They also recorded a number of Japanese only tracks. The "Make It Come True" album was repackaged with these extra tracks and released in Japan with the new name of "Girl's Life".
1993 saw the release of the up-tempo single "Heartbeat". The first single from the bands second album, "It's Up To You". To coincide with the album and single release, the "Heartbeat Tour" travelled the country to promote the bands new material and look. Even though the album didn't have the same impact as the first, it still spawned 2 top 50 tracks, "Heartbeat" and the ballad "Wishing On The Same Star".
When Robyn Loau left the band in 1994. This was the end of Girlfriend as they were known…
After Robyn's departure, Melanie, Jacqui, Lorinda and Siobhánn, changed the bands name to GF4 and continued as a quartet. The band name wasn't the only thing that changed! The girls had grown up and adopted a more grown up, sexual image. Their first single, a cover of the song "Sooner Or Later" became a huge hit in the charts and clubs around Australia. Not only that, but the CD Single was the first ever Interactive CD Single manufactured in Australia. The CD, now primitive by today's standards, was full of photos, video clips, and interviews with the girls. A break through in the technological world at the time. GF4's second single, another cover, this time a cover of Oliva Newton John's "Need Love [To Make the Sex Right]" did not receive a great deal of airplay or the promotion it deserved, and unfortunately after only small success, the girls disbanded.
2. Girlfriend formed in 1995 in Aarhus by Jacob Karim and Jens Henrik Horslund.
De udsendte i 1996 EP'en 'Girlfriend', imens rykkede de hele bandet til København. De har adskillige gange skiftet bassisten og trommeslageren ud, men besluttede at holde Girlfriend som en duo, imens de arbejdede.
I 1999 udsendte de deres anden EP 'The Morning Breaks', hvor den følsomme ballade 'Coming Home' fik stor success på P3, med hele 6 uger på deres upcomingliste.
In 2001 they released the album 'Opening Nights' i samarbejde med navne som bl.a. Tim Christensen og Lars Skjærbæk (tidl. Inside The Whale). Så¨fik de Michael Houborg til at spille bas og Martin Ege på trommer. Senere fandt de så Morten Hvid til at styre tangenterne, når de var ude og spiller live. In 2004 "Blue Sky Love Scene" was released.
Girlfriend played 90s indie pop reminiscent to Travis, Saybia, Crowded House - harmonious, radio friendly and slighly soppy perhaps , yet likeably introverted, atmospheric and intelligent.