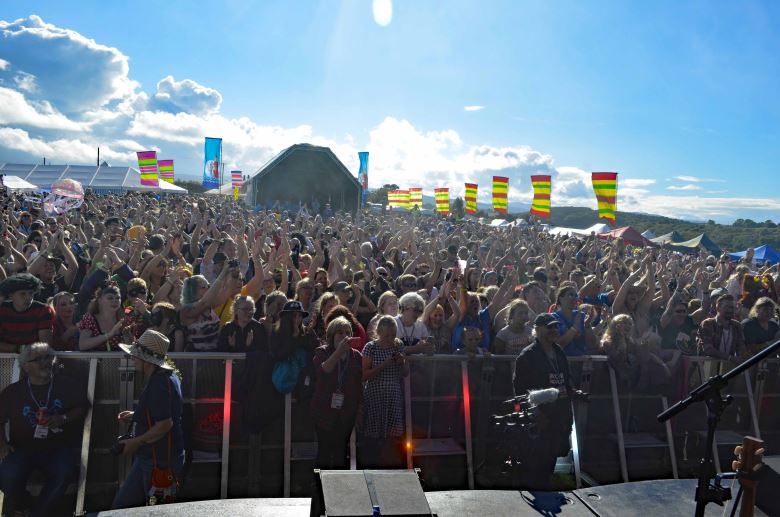 In 2007 Watchet festival broke away from the towns carnival weekend and decamped to a field that overlooks the town, the sea, and beautiful countryside. You really couldn't ask for a more stunning setting for a festival, but I don't think that's why Watchet festival has gone from nothing to throwing major artists at every single days line up, in just 10 years.
Last years festival sold out, but this years was an advance ticket sell out, which seemed to make all the difference, crowds lined the track to the ticket exchange waiting for opening time, campers were banging on the gate at 10 o'clock to get their favourite pitch and get on with the business of enjoying the festival for all its worth, and Friday seemed to be busy & buzzing in a way I've never witnessed before at Watchet.
It could have been the perfect weather predictions, it could have been the fact that the festival now has the ability to throw million selling headliners at each night of the festival, or it could be that word has finally got out after 10 years, that this festival has an individual feel that is all its own, and shouldn't be missed.
The Friday night line-up for all 3 stages was unimaginable just a few years back, kick-starting the mainstage action was 1960s chart band The Animals, who over the years have boasted some of the most influential member names of the era, followed by Geno Washington & The Ram Jam Band, and then a return to Watchet for 1970s chart toppers the Real Thing, one of those bands who can keep an audience singing all night. With all three original vocalists, a string of hits as long as the proverbial, and harmonies that could shame an auto tune into submission, providing a more than credible enough support to keep Friday headliners UB40 on their toes.
Former radio 1 DJ, Live aid co-host, war correspondent and general raconteur Andy Kershaw gave a compelling talk on his life that proved to be a must see, in the Something Else Tea tent, while Hobo Jones and the Junkyard Dogs featuring an all-star cast, did their thing closing the Udder stage. Quite a Friday night.
Throughout Saturday and Sunday, the festival bus takes punters downtown to Pebbles Tavern`s "Busk Stop", a brilliant idea, at a great little venue that's become a big player in the Watchet live music scene. It also gives festival goers who maybe wouldn`t bother otherwise, a chance to see the gorgeous little harbour and Quayside, as well as a chance to top up on supplies, money, and maybe spread a little wealth around town.
There is quite a strict no booze into the festival arena policy, but with the stunning selection of ales, ciders (including the legendary Cheddar Valley) at 3 quid a pint and cans at £2.50 it's not expensive to have a good time here.
Saturday arrived along with a few light showers, and casually scattered among the afternoon line up was the amazing Nell Bryden & band, radio 2 play listed and promoting her 5th and latest album Bloom, this was just one example of the mass of talent available at all times of the day at this year's festival.
The incredible show that is Funke and the Two Tone Baby, This Fire, The Majestic and The Leylines packed the Udder stage throughout Saturday,
Saturdays mainstage headline act double header was genius. Founding member of Joy Division, and New Order, DJ, Author and producer Peter hook has worked with the likes of The Stone Roses & Inspiral Carpets, and is currently touring with his band The Light. With unforgettable tunes like Love Will Tear Us Apart, World in Motion, True Faith, and the biggest selling 12" single of all time Blue Monday all being authentically revitalised in live form before an audience, some of whom were visibly lost in the moment and stunned by the quality of the performance. Absolutely awesome.
Call me old fashioned, but I've always been a total sucker for a good song with a strong melody, and Indie Pop band The Feeling have them by the bucket load, I must be honest, I probably couldn't have named a single one of their songs before they started, but spent the whole set going "oh Yea, I know this" and "was this them?" to songs like Fill my little world, Love it when you call, Never be lonely and Sewn, they did a phenomenal rendition of Video killed the radio star and a Beatles Medley. They were tight, smooth, professional and possibly my favourite band of the weekend!
Sundays fancy dress contest is one of the best attended of any festival I visit, this year the theme was Cartoon characters and there were some fantastic high and low budget costumes, which all adds to the overriding feeling that Watchet is as much about fun as music.
While on the subject of fun, Sunday afternoon here has now become synonymous with probably Watchet festivals most booked act, self-proclaimed original boy band, drinking class heroes and cider swilling ruddy faced rioteers The Wurzels. All worthy of a free bus pass, these Somerset Septuagenarians never fail to bring the house down with tunes like Where Be That Blackbird To, Farmer Bills Cow Man, and of course I Am a Cider Drinker.
This year's job was made slightly easier for The Wurzels by the presence of an already made crowd, left over from another band fast becoming a Watchet institution The Barsteward Sons of Val Doonican, drawing in probably the biggest daytime attendance of the weekend for their witty re-workings of classic tunes and epic on stage antics.
Dreadzone followed 3 Daft Monkeys on the mainstage and provided the perfect warm up to the band who have been at the top of Watchets most wanted list from the start, giants of the festival world & god fathers to the great un-washed, the Levellers. This was a pretty emotional moment for the organisers of the festival as this was Watchets 10th birthday and there is no festival next year, two of the team made a brief appearance on stage before the fireworks that preceded the finale for 2016.
With a back catalogue of literally hundreds of songs including What a Beautiful day, Just the one, Hope Street and the anthemic One Way, Having the Levellers, who made number 47 in the Telegraph top 100 best Glastonbury performances (nestled in-between Primal Scream and Dolly's Parton's), was a much a sign of coming of age as it was a thank you to everyone who has supported the event over the years.
They say if it aint broke don't fix it, and 3 years ago I would have said this festival didn't need fixing, but for the last two or three years its sold out, with bigger headline acts, better quality everything, and the world now seems to finally know the name |Watchet.
Some would call that mission accomplished, but I will most definitely be among the five thousand or so people eagerly awaiting its return in 2018.
Published on 02 September 2016 by Keith Dennelly