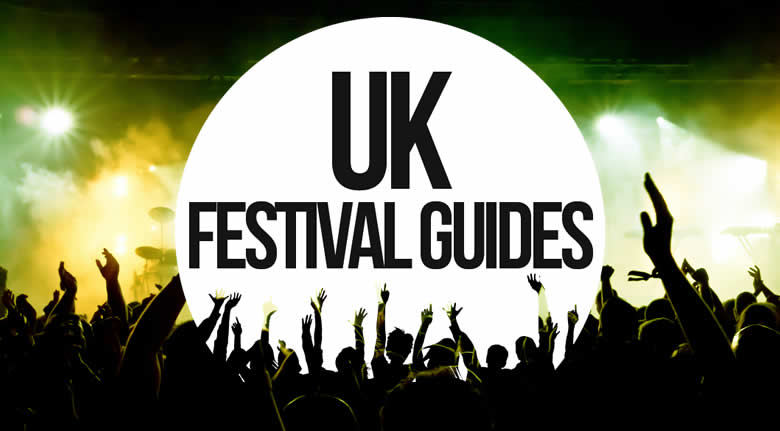 Set in beautiful picturesque grounds complete with a castle, Eastnor in Ledbury would be an ideal setting for a fairytale. However something much more wicked this way comes. 8 stages playing everything from indie to hip hop with some reggae and dubstep thrown in to the mix. Revellers mostly in their 20's but a few families dotted about pitch up and over very steep hills (luckily cafes are dotted along so you can stop and get your breath back on the journey to your tent) but once over the climb you see the most amazing sight. A lake full of colour reflecting the trees lit with an array of bright colours and modern pieces of art scattered across the fields...and a very large stage, which hosted some amazingly talented artists and saw some unforgettable moments.
Anyway, enough with the scene setting...we need to talk Kanye West for a moment. As I said in the News section, it was an amazing set he did. The stage was adorned with ballerinas, 20 backing dancers, pyrotechnics (you should've seen the amount of fire fighters they have backstage for just one of those things going off!) and he was a very cool guy, bringing some American bling to the Big Chill. However, he was really late on stage and he went in to a bit of a monologue after a few songs which seemed to go on just that little bit too long. It all sounded very egotistical and he seemed to think the press had it in for him, saying they treated him as though he was Hitler at one point. This was all with some light piano playing in the background, perhaps to soften the blow of the strong words he was saying. People started feeling a bit awkward so he saved the day by getting his auto tune out. Phew! This sounded pretty cool I thought, but then he coughed in to it by accident and that's when I thought maybe this isn't going that well. Still, all the ladies were appreciating his 'talents' and despite the freezing cold he did create a buzz around the festival and out shone the other headliners.
Before visiting I'd been told about an artist called Janelle Monae and was instructed not to miss this girl and to watch her band. I was not disappointed. Give this girl a big afro and she could've been straight out of the Jackson 5. The whole set was so up beat and professional. It could've been a backing track she was singing to it was so spot on and the way she performed just made everyone smile. She has a retro look and bags of attitude. Girls were strutting about dancing to her all over the place. A few of them towards the back caught my eye as they were throwing some crazy dance moves and having a great time. Later I saw they were the lovely singers from Wara, a London based 9-piece with a Latin style. They were playing on the Global Local Stage so it was a more intimate gig. They were all so talented and each musician offered something so incredible that it blended together forming the perfect band. Check these guys out sometime.
Sadly most of Katy B was missed as she, unlike Kanye was too early. So by the time I reached the Reveller stage there was not much to see. When asking others how she was, I was told to just be amazed at how absolutely tiny she is. Hmm. Hope that helps!
Robert Plant appeared Sunday night on the main stage with his pre Led Zeppelin band
'The Band of Joy'. They opened with a mellow version of 'Black Dog' which he performed as a duet with Patty Griffin. His set showcased the talents of The Band of Joy with each member taking a turn to sing a song. It was an interesting melange of folk instruments and psychedelic guitar effects. They included as well as lesser known songs, classics such as 'The Lemon Song' and a cover version of Richard Thompsons' 'House of Cards' Most of the set was sung an octave lower than the original recordings but you can't have everything.
Rodrigo Y Gabriella were a highlight for many at the Big Chill and the headline act on Sunday. The duo from Mexico got their big break when Damien Rice invited them to support him on tour. Since then their careers have really taken off. Their talent for guitar is beyond genius. They have so much passion for what they're doing, it's awe inspiring watching two very down to Earth people coming along and blowing the audience away without any extra props or backing. Quite a contrast from the night before!
Aside from the music, there are a few more points to make about this year's Big Chill. I noticed there weren't as many people there this year. In a way, this was good as there were no big queues for loos at any point. However, I think this could have affected the feel of the festival a little. A lot of people I spoke to said it just didn't feel the same as it has in the past but when you think how most people just don't have the money at the moment it kind of makes sense.
There were loads of facilities and plenty of shops and places to eat and if you needed to relax there was 'the enchanted garden' which had masseurs, hammocks, chill out tents and sculptures. There was also a children's area and fairground rides. There was a big staff presence so you felt safe and I'd recommend giving it a visit next time round. The main selling points for me were the diversity of artists and that not only did it have musicians but it celebrated art, film and new talent too.
Published on 10 August 2011 by clairesen