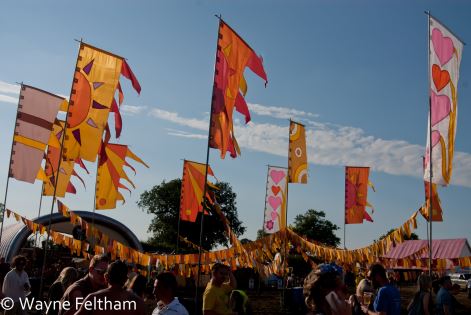 Secret Garden Party – Everything you never expected and never knew you secretly wanted until it magically appeared before your senses!
We all know that feeling of Christmas from when we were small. Looking up and around in wonder because the world suddenly starts to get more bright and colourful. The impending excitement a string of coloured lights can predict. There is something in the air, it ripples with the suspense of what might come our way …...our dearest wish …..or maybe our most unexpected yet joyous surprise. The choirs sing, the people are merry, the decorations glisten and year after year in innocent awe we look forward to our annual festivities with waiting hearts and minds to soak it all up once again.......and then one day we grow up.........but at Secret Garden Party we never, never have to grow up!
One minute I was standing in an ordinary field by a fence and some cars. A few minutes later I seemed to have entered an alternate reality. I knew this was going to happen and yet it still made me smile. Like Alice down the rabbit hole I was chatting to woodland creatures dressed as people about all that might happen over the weekend. I was laughing with people in woodland creature costumes like we were old friends even though we had only just met.
Not long afterwards I was slumbering in the sunshine at the main stage, listening to the angelic Staves (who have grown as performers and songwriters since I first saw them 2 years ago) I was gazing across the fields of green trees interspersed with what I imagined a medieval festival pageant might be like. Pennants and flags of every colour shining in the sun and fluttering in the breeze while festival goers laughed and danced to every type of music you could wish for. Yet it is relaxed during the day at Secret Garden Party, the crowds amble though the sunshine along the banks of the lake and potter among the tents without a care in the world choosing this and that to eat or wear that evening. We watch bemused as people play croquet or participate in the roaming theatre shows. Swim in the lake among the dragonflies as they dart around your head, electric blue and glowing in the sunlight like little faeries while you gaze above the whispering reeds. The pleasures are endless, hedonistic but laid back- during the day.
At night however the excitement rises to a bit of a fever, the fires light and it all feels a bit pagan, well a lot pagan actually as we all revel in the elements and the music, the nightlife and colour. The trees glow green and violet its like being in a fairy tale under a fountain of stars. People hurry to catch their favourite band, dancing through the evening and huddle laughing round little curiosities along the way. The food stalls bustle with business and mist drifts across the lake in waves lit by the fires and lights so you wonder what it is you are looking at. Then there are the fireworks – like nothing you have ever seen before and the display goes on and on just when you think it is over it all starts again- amazing. The night seems endless and still people party long after dawn, if they ever make it to bed! There is so much to do, so much to see, party in a tree house, row across the lake to the bar in the middle of it. Cocktails at the yacht club or get lost in the labyrinth. Every year I find something new to do the site is always slightly different so you never quite know where you are but that is half the fun cause round every corner is a surprise.
I used ache for the absence of SGP to wait another year seemed interminable, but now I know it is like an old friend who will be there always. I can return any time through my memories and it will be back next year dependable yet surprising (and in the mean time there is always Wilderness). However much fun I had though four days is enough! Although Thursday and Sunday finish early Friday and Saturday go through to 6am I just dont have enough money or energy to party any longer so enough is enough I was happy enough to go home and have a bath (although there were plenty of showers, a sauna, a lake to swim in and a pool this year).
What the organisers of Secret Garden Party have done is take what seem to be the down sides of festivals and turn them into a positive. You dont want to lug all your gear over the fields? They will lend you a wheelbarrow. You want to cool off with a swim in the lake, isn't that a health and safety nightmare? They put in some life guards and you can . There are disposable cups all over the site where they have been dropped. So collect a stack of them and they will pay you for your trouble. It is a can do attitude that treats us all like the adults (I hesitate to use the word responsible here) we are and helps make the weekend so special. It is a way of appreciating your guests by not patronising them.
But buyer beware! This festival is not for everyone it is completely unbranded and utterly eclectic. One moment you might be watching a hungarian folk band, the next a glitch hop revelation. You might be a juke box jury or do the charleston to electro swing. Go from salsa dancing to dancing badgers to dub-step. A pop up lingerie party to DJ's at dawn. And, this is a festival, there are festival toilets, sometimes it rains and there might be mud. Sometimes there are queues at the bar and festival goers who are so worse for wear that the cannot remain on their feet. The campsites can be noisy and there can be large claustrophobic crowds in small spaces where you are continually jostled.
Yet, when I think back to the weekend it is not these things that I remember. I remember the people in various glittering guises laughing and smiling like children among kindred spirits in a riot of colour . I remember every type of music drifting on the wind from every conceivable stage. Crystal clear voices resonating through the trees from the Where The Wild Things Are Stage. The thumping bass lines from the Temple of Boom and the sheer energy of the dance at The Crossroads. I remember the sights and sounds and colours lighting up the night. I remember the glorious undulating surroundings of lush lakes, tall trees and heavenly horizons.
What I remember most is that the finest pleasures are always the most unexpected ones. So expect the unexpected when every day is an adventure and the joy is in the journey.
Published on 31 July 2013 by cateclare