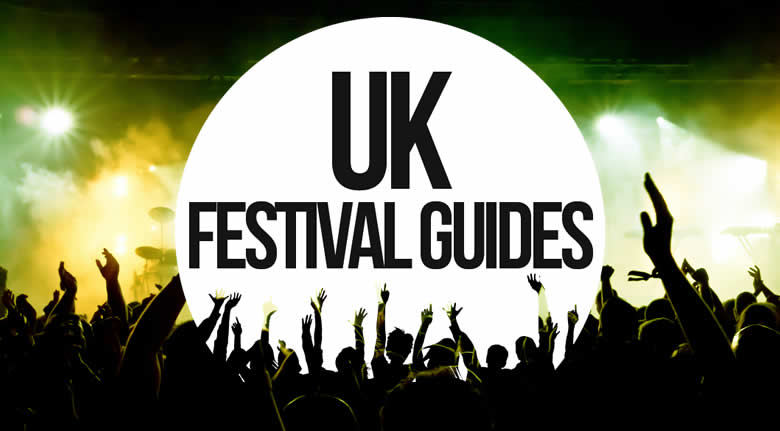 Visible by a host of huge and colourful flags, run entirely by volunteers and raising money for a variety of charities, Fieldview festival is Wiltshire's biggest little festival. Steadily growing since 2007 thanks to it's warm atmosphere, dedicated organisers and incredibly obliging weather, every Fieldview feels the same but different and both of these in a good way.
The theme this year, as there is always a theme, is 'Club Tropicana', so everyone is clothed in a garish mash of pink, yellow and green and the majority of the fruit on site is plastic and mounted on a hat. The campsite this year was amid a sparse forest, so finding a tent arrangement for our group was tricky and ended up with us being stuck in the 'family camping' section but once we'd thrown out some thistles and strung up some fairy lights we felt at home. Hammocks were strung up everywhere by the festival organisers, along with huge bouncy nets for the kids and hay bales and logs for seating.
Everything about the way and why Fieldview is organised and run is environmentally friendly. One year they actually powered the entire event with solar power and chip fat. The festival raises money for a number of charities such as Jamie's Farm and Cool Earth and encourages everyone to recycle their rubbish and respect their environment.
There are four main areas to Fieldview. The main stage has the biggest acts and largest crowds, along with the non-profit bar and a selection of food stalls which all cater to vegetarians and vegans. Closest to our campsite was the most chilled out area, with tents serving up all sorts of tea and snacks while acoustic acts keep you entertained. Nearby was a small stage devoted to more bluesy and soul acts as well as some particularly sick electro in the later hours. A larger tent off to one side of the site housed the energetic rock and roll of bands like Kid Wave and Old School Tie. Finally once the sun had set and kids were asleep, a secret section opened up, packed out and blasted dance, house and electro till the early hours.
The stages and acts are not all Fieldview has to offer, however, as workshops covering everything from yoga to hen keeping to contemporary hip hop fusion dance run around the clock, meaning there is always something interesting to do. Although I missed the speed dating and shack building, I got to hold a hen and brush up on my swing dancing and got to witness some first class fire poi and hula hooping while I sipped chai tea and enjoyed some excellent samosas.
The highlights of this festival for me were Boxed In, who played an electric set on the main stage, as well as the closing moments of Stony Browder Jr when over a hundred beach balls were thrown into the crowd and exploded like popcorn on a hot pan. Afterwards I hit up the secret area for some hard dancing before sleeping under the stars in a hammock, awakened cheerfully the next day by the father of the festival organisers, who still helps out and runs the BBQ. It was a good year as always.
Published on 06 October 2015 by Alexandrawalters