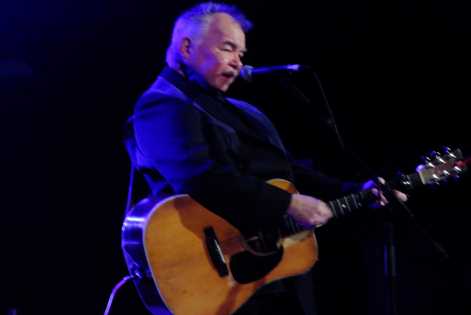 Want to see Zoe Ball (yes the Zoe Ball) clog dance? Head to Cambridge Folk Festival
This year is my 11th time going to one of the biggest and best festivals for folk, the Cambridge Folk Festival. When looking over the crowds I saw young people, older people, families, people with pink hair, mohicans bobbing up and down, and for me that sums up Cambridge. This year's line-up included singer-songwriter John Prine, incredible folk instrumentalists Lau, and many more.
I think 2012's festival benefited from a brand new layout by the river where people can sit around chilling while listening to some young and emerging talent at The Den. You can normally find kids messing about in the river or in the nearby playground.
Artists Jim Butler and John Holder also run exceptional drawing workshops in this serene setting. But with the sun shining and a more open location for The Den, it was the perfect spot for people to catch some new acts and escape the crowds.
Cambridge's newest stage is the cosy People's Front Room, where you can see some brilliant acts of diverse genres, these include, folk, hip-hop, acoustic rap, classical guitar, blues often within the same act! It's one of the friendliest spaces with good times guaranteed. One particular band that caught my attention was resident band The Bombs.
Thursday night finished with the return of political folk-punk artist Billy Bragg who was celebrating one of his biggest heroes, Woody Guthrie's 100th birthday. During the set he talked about what makes Woody so special, how he was ahead of his time and what his lyrics meant, he summed it up by saying "Woody isn't a hero of mine because he wrote This Land is Your Land, he's a hero of mine because he wrote this machine kills fascists on his guitar". Bragg's voice seemed to be on top form too, he produced a heart felt tone and reached many high notes. He finished the set with a modern version of one his own original songs 'Waiting For The Great Leap Forward'!
Cambridge is a festival dear to many radio and TV presenters including Mike Harding, Mark Radcliffe, and many more. They love this place and are always up for a chat about their favourite Cambridge moments. This year Zoe Ball came to Cambridge for the first time. She told me that she didn't know a great deal of folk music but said she thought that the vibe was great! She also told me that her favourite bands had been The Pine Leaf Boys, The Destroyers and that she hadn't seen an act she didn't like! I even spotted Zoe having a go at clog dancing – not bad for a first timer!
Legendary singer-songwriter John Prine headlined Friday. John charmed the audience with his gorgeous, earthy, raw-sounding croaky but beautiful voice and clever lyrics, which represent his sideways take on life. It was great to see someone holding their own while standing on the main stage with just a guitar! Although at the end Prine welcomed Gretchen Peters and Barry Walsh on to finish the night. He first played the festival in 1972 and you could feel the expectation of a quality show in the arena. The audience was in awe.
One of the main highlights of Saturday was The Unthanks with The Brighouse and Rastrick Brass Band, who played an absolutely magical set. They started with a gorgeous solo from the distinctively voiced Becky. After the show the brass band marched through the sunburnt crowds to play a few songs in the blistering heat, which was a brilliant idea from festival director Eddie Barcon. I also managed to interview Rachel Unthank, she was thrilled to be launching the new album here at Cambridge. She said the audiences here are always very supportive and that she feels at home as she worked here before her career took off.
I've talked a lot about the music, and parents don't worry! You can watch the bands too as there's a brilliant on-site crèche where your kids can be looked after for an hour or two for free.
Storytelling is a huge part of the festival. Each year around seven storytellers come and tell tales in the beautiful flower garden. As you will know telling stories is the core part of traditional folk music so I think that's why people at the festival are so fond of the tales, which have been passed down through generations. I spoke to the festival's resident storyteller, John Row. He's been telling stories at Cambridge for as long as I can remember! He told me, in his warm voice, that he loves to leave to the door open for new storytellers and said that he never books the same people consecutively – for instance this year he booked someone who graduated 3 weeks ago! John is one of my favourite storytellers, and I've seen many. I love the way he always has his stick to hand and wears a top hat and waistcoat. But the new kids on the block were Sebastian Sabene, who uses a dark serious style to charm audiences, and charismatic Tom Woodards, who has adults and children spellbound with his energetic style. And then there's the lovely Cath Little who told me;
"I've been to many festivals and Cambridge is the best festival I've ever been to"
Before I sum things up I'm going to mention one more highlight, Seth Lakeman! The energetic violinist played a stomping set and brought a less polished and more interesting industrial-folk sound to the festival. With many heavy beats he got everyone tapping the feet and warmed up for the evening to come.
Overall I had a brilliant time. I have to say I don't think this year's line-up was as good as previous years. But I found that it was a lot better than it looked to me on paper! It was great to see old friends as a lot of people return to Cambridge every year. And, as always I was camping at Coldham's Common, where you can make willow sculptures; play fiddle; listen to stories; see exceptional street theatre; get your face painted by the talented Ade Jowitt-Thrall; and watch bands in a tent, run by fantastic host Terry, late into the night. The whole festival is a slick operation. You can enjoy yourself with out the usual niggles of marathon queing or grim loos. I also thought the security and stewards were laid back and friendly - much more than at other festivals.
I should also mention busking sensation StumbleCol, who even had a member hospitalised from over-enthusiastic stomping at sets all over the festival site. The trouble with this festival is every act is quality – you will just have to come to experience for yourself. Other highlights include the legend that is Nic Jones, duo O'Hooley O'Tidow, the impressive song-writing newcomer Jake Bugg, and I could go on…but for now goodbye Cambridge!
Published on 31 July 2012 by Ned Mansfield