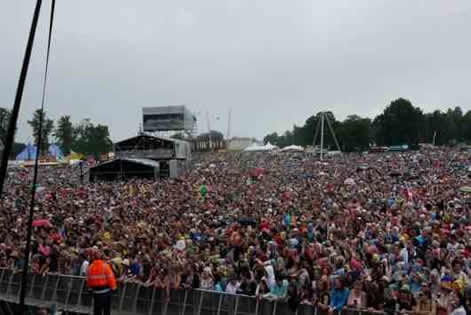 V Festival, sponsored by Virgin Media, closed tonight after a weekend of phenomenal performances and fantastic weather across the dual sites, Hylands Park, Chelmsford and Weston Park, Staffordshire.
The Arctic Monkeys gave the crowd in sunny Stafford a suitable send off on Sunday night by belting out some of their classic hits to rapturous applause. Newly single Alex Turner rocked a mod style quiff and strutted his stuff across the stage, Elvis style, in a fitted leather jacket.
Whilst Rihanna turned up the heat in Chelmsford with a raunchy rendition of 'Only Girl in the World' wearing a cropped denim top and black hot pants. The singer handed the stage over to Eminem only to re-join him later for a steamy duet of 'Love the way you lie'. Earlier in the day on the Virgin Media Stage, Danny O'Donohue from The Script caused hysteria amongst the crowd after jumping into the photo pit to greet the fans.
Mark Ronson paid tribute to his long time collaborator and friend, Amy Winehouse with a rendition of their classic track, 'Valerie'. Ronson was joined by Dionne Bromfield, goddaughter to Amy, for the tribute - the crowd was obviously moved and there wasn't a dry eye in the house.
Meanwhile, despite admitting she had been crying all morning because of the pain of her broken leg, Jessie J powered through her evening set, wearing a revealing nude body suit, and performing 'Stand Up' whilst sitting down! She later appeared on stage with Chipmunk in a surprise performance, before leaving the site with Tinie Tempah and his band for some post festival celebrations.
The Noisettes who, despite a self-confessed hangover, delivered one of the most energetic performances, complete with cartwheels across the stage. Calvin Harris finished off the night with an electric mix of top tracks in The Arena.
Example had support from his parents, who watched on from the side of stage, as he pumped up thousands of fans, whilst Eliza Doolittle's mum, 1994 Eurovision star Francis Ruffelle, turned up to show her support.
On the Undercover From Virgin Media stage, thousands of fans almost lifted the roof as surprise guests The Enemy revved up the enthusiastic crowd.
V Festival Director Simon Moran said, "2011 has been the biggest and best yet, this year's event has once again showed why V Festival has such a strong reputation. The fans loved this year's outstanding line-up, which included memorable performances from Eminem, Arctic Monkeys, and Rihanna. V Festival will continue to grow in 2012!"
Festival fans are being given the chance to get their hands on tickets for V Festival 2012 early – and at 2011's prices.
V Festival 2012 will take place across the weekend of August 18th – 19th, with tickets going on sale on Wednesday 24rd August from 9am, for a limited period of time.
V Style packages, the new luxurious range of stylish accommodation will once again be available for those in search of some pampering. Festival fans cansleep in decadent surroundings by choosing between a lux pad, pop up hotel room, yurt or perhaps even a gypsy caravan to chill out at the end of each night. V Style packages include* weekend passes and all your accommodation needs including a warm shower and premium toilets. You'll never go back to basic camping again!
Published on 22 August 2011 by Wayne Feltham