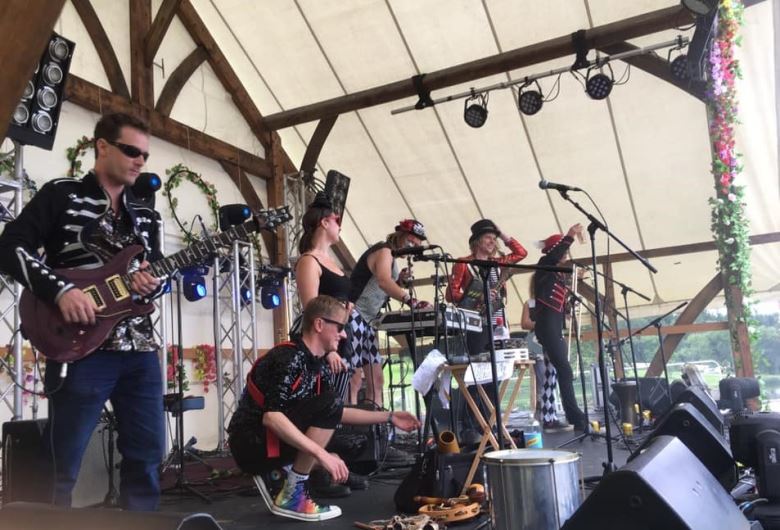 A little slice of heaven in Devon, aptly named Wonder Fields promises a range of delectable delights, from roaming pixies to paddleboard yoga.
A little slice of heaven in Devon, aptly named Wonder Fields promises a range of delectable delights, from roaming pixies to paddleboard yoga. Here is a place where you can tumble from the turbine of the workaday world and party the weekend away, or just pass time and play.
This is the charm of the festival, now moving into its fifth year at the current site just over the river from Fulford Manor, with plans to change location next year. A safe haven for families as well as party-goers, this year Wonder Fields was host to acts including two-time Radio 6 Soul and Jazz 'Best Live Act' contenders - My Baby, ones-to-watch The Tremor Tones, perpetual crowd-pleasers Monkeyfist, Too Many Zoos, The Freestlyers, Foreign Beggers and DJ Yoda.
The festival, sprung from the minds of siblings Alice and Nick De Han, has an air of intricacy; the tiny touches and attention to detail make the weekend a special experience regardless of your musical taste. We bumped into various walk-about groups and acts over the weekend; puppets and popcorn, giant turtles and wandering faeries encouraging people they met to write something they love about themselves on bits of heart-shaped bunting. Family fun, with a constant stream of activities to keep grown-ups and kids alike entertained, whether Life Drawing's your bag, Hip-hop yoga or you fancy a round of 'Welly Wanging', there's something for everyone.
The Tremor Tones, usually a 7 man-strong band, played a stripped-down acoustic set of their own brand of UK reggae-soul. Front man Adam J Booty took to the stage alongside bassist Jake Smith and Monkeyfist saxophonist Dave Kemp, who they had enlisted for their set about an hour they were due to go on, not that anyone in the audience would have known. The newly-formed dynamic trio commanded the stage playing covers of Ken Boothe, Toots and the Maytals and The Slackers. They had the audience up and dancing before throwing in some Tremor Tones originals including 'Letting Me Down', and the rock-steady-sinister 'Darken My Door'; the crooning vocals and building uneasiness of the melody standing in stark contrast, with a bouncy ska take on Ready or Not by the Fugees, which rounded of their set nicely.
The main stage hosted harlequin dipped South-East London/Bristol outfit, Monkeyfist. The charismatic and deliciously chaotic collective had the crowd stomping along to a punchy horn section, unrelenting techno, broken beats and live percussion between chants demanding fishcakes ("gimmi the fishcakes") and psychedelic guitar licks. After a day of dancing and not a lot of sleep on the Friday, my night ended at around 2am after the sudden realisation that eating was both very and immediately necessary. After treating myself to an incredible mac and cheese pot from one of the many food stalls and shoveling it down my neck as fast as was humanly possible I collapsed in the tent, more than ready for a kip.
After a hazy morning with the mist rising above the river, Sunday afternoon brought bouncy breaks with Yoda playing a fun filled and ridiculously danceable set, slicing and dicing 80s pop with hip-hop and disco, chopping in a power ballad or too for good measure. His early evening slot perfectly placed to play out the sun and pick-up everyone up before My Baby's headline set.
The Dutch-New Zealand trio is a force to be reckoned with, commanding elements of gospel, blues and folk melodies, My Baby snake-hip their almost primal sound around sand-dune-desert cool guitar riffs and hypnotic drums that wouldn't sound out of place in a Tarantino or Oliver Stone movie. 'Mad Mountain Thyme', their psychedelic take on the classic Irish/Scottish folk song, setting the tone for their set, they launched head first into song after song of shamen-esque storytelling and electrifying vocals from singer Cato van Dyck, their set culminating with the instantly recognizable guitar hook of their mesmerizing, voodoo blues, dub infused 'Uprising'.
Wonder Fields is getting better and better each year, I can't wait to see what the crew has in store next year and where the new site will be. Highly recommended whether you want to relax in a hot tub, unwind at a workshop or dance your way through the weekend to an incredible soundtrack of quality music.
Published on 19 August 2019 by Bella Whately