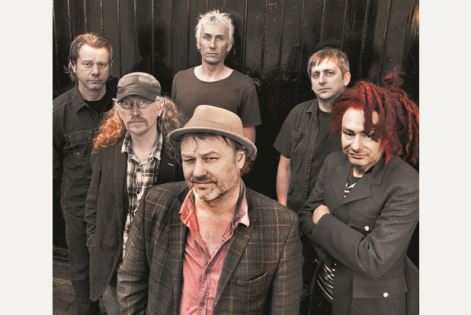 The Levellers will headline Chagstock Festival 2015, this is the only other Westcountry performance by the Levellers this summer!
CHAGSTOCK FESTIVAL
are delighted to unveil

The Levellers

as their Main Stage Saturday night Headliner. With their own Beautiful Days festival now sold out, this is the now only opportunity to see this massively popular folk-punk band perform in the Westcountry this summer.
Formed in Brighton in 1988, The Levellers recently released their documentary 'A Curious Life', which charts the band's phenomenal career; achieving huge international mainstream success, releasing a No. 1 album and more than 14 Top 40 singles, and performing to record crowds at Glastonbury. Still going strong after 27 years this performance will be jam packed with hits from throughout the Levellers' incredible back catalogue, including classics as One Way, Carry Me and, of course, What A Beautiful Day.
A limited number of day tickets for both Friday and Saturday have now been put on sale via Chagstock's official website
www.chagstock.info
. Weekend camping and non-camping tickets are also still available but selling fast.

Chagstock is one of the Westcountry's best-loved festivals. Set in 70 acres of farmland on the edge of Dartmoor, Chagstock is renowned for its stunning location, diverse line-up of artists and non-corporate, family friendly atmosphere. Chagstock showcases the very best music, food and entertainment that the Westcountry and the UK have to offer.

Headlining the main stage on Friday are mighty alt-rockers, New Model Army. Their incredible stage presence, combined with a massive back catalogue of classic songs from across their 35-year history, makes them the ideal band to round off the first evening at Chagstock.

Also on the Friday main stage line up are Neville Staple Band, whose frontman has been at the vanguard of Ska since joining the Specials back in 1978. BBC Folk Award nominee Martha Tilston, and Irish Music Award winning Celtic Fusion act Roving Crows.

Alongside the Levellers, Saturday's main stage line up includes Seth Lakeman, house band New Crisis, raucous six-piece electro swing band Electric Swing Circus and female-fronted reggae band Dojo

Headlining the Marquee on Friday are the wildly popular Plymouth based Folk-Gypsy-Pop band Mad Dog Mcrea. They are joined by Police Dog Hogan who are making a real name for themselves in the folk-bluegrass scene. Completing the line-up are the brilliant Folk-Rockers Rusty Shackle, whose 2013 album 'The Bones' reached number 13 in the iTunes singer/songwriter charts.

Saturday's Marquee stage line up is headlined by the incredible London based six piece "GypStep band", Molotov Jukebox. Fronted by their hugely enigmatic frontwoman Natalia Tena (who's 'other' career as an actress has seen her appear in numerous high profile roles including About A Boy, Game Of Thrones and four of the Harry Potter movies). Co-headlining are The Eskies "Ireland's best 5-piece gentlemen's club who play gypsy-folk-noir with occasional brass and wind sections", County Antrim born Ciaran Lavery, hugely popular Bristol-based Acoustic magazine "Singer Songwriter Of The Year" Gaz Brookfield and Cambourne's Kezia, a 2-time winner of The Cornish Guardian's 'Best Female' Award.

As introduced in 2012 in recognition of the tough economic climate for families, all children under 12 can attend the festival for free (ticket is required). Chagstock's capacity is once again capped at just 5,000 tickets to ensure that its intimate, family-friendly atmosphere is maintained.

Simon Ford Chagstock Festival organiser says,
"After three consecutive sold-out years the pressure is one again on myself and the team to deliver the best Chagstock ever. With this incredible line-up we have gone a long way to achieving that, but there is still plenty more for us to do...! Keep an eye on the website and facebook for updates, band announcements and all the Chagstock news you need...And of course, as always we are sticking to the non-corporate vibe and family friendly atmosphere with loads of great and varied music, food and entertainment"
Published on 19 May 2015 by Wayne Feltham