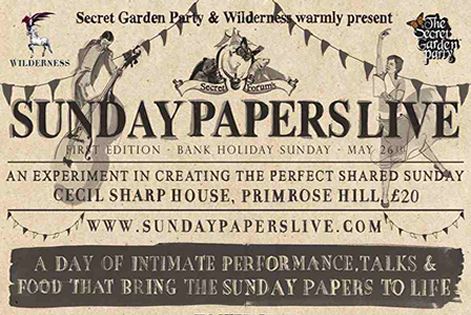 The Secret Garden Party and Wilderness have joined forces to present a new concept bringing the Sunday Papers to life.
Secret Forum's Sunday Papers Live is
an exciting experiment creating the perfect shared Sunday where the audience can mingle with the very headline-makers and commentators they normally read or read about.
The First Edition takes place on Sunday 26th May (Bank Holiday weekend) at Cecil Sharp House, Regent's Park Road, London.
Secret Forum's Sunday Papers Live offers the traditions of Sunday as you've never seen them before – roasts, walks, newspapers & close company. See the broadsheets brought to life by commentators, musicians, actors and poets, section by section, performance by performance, covering travel, world news, style, theatre, science, business, art, literature and more. Some will be silly, some serious. Some will make you dance on the tables.
It all takes place, in laid-back Sunday style, in a giant living room packed with Chesterfields, lamps, rugs, slippers and Bloody Marys. Speakers confirmed are as follows:
Mukesh Kapila: the UN insider who first brought Darfur to world attention brings the ultimate, first-hand account account to the Sunday Papers live audience. Journalist, novelist and all-round legend Jon Ronson will be sharing his latest curious adventures into human eccentricity. Illuminating everyone on Style will be one of the most important names in the fashion industry, Katherine Hamnett (CBE). None ther than Gavin Turk will head up the Art section - and that's just the tip of the iceberg…
FULL SUNDAY PAPERS LINE-UP:
World: Mukesh Kapila (UN Chief in Sudan)
Tim Marshall (Sky News Foreign Affairs Editor)
Amana Fontanella-Khan (The Pink Sari Revolution)
UK News: The Revolution Will Be Televised (BBC3, BAFTA nominees)
Business: Ben Dyson (Positive Money)
Science: Dan Schreiber (QI, Radio 4)
Sport: Mark Roberts (Legendary Streaker Extraordinaire)
Music: Sam Lee (Mercury nominee), Dizraeli, CC Smugglers
Art: Gavin Turk
Books: Jon Ronson (The Men Who Stare At Goats), Stella Duffy, Mark Vernon
Film: Jamie Catto (One Giant Leap)
Theatre: The Little Baroque Company
Style: Katherine Hamnett OBE
Gardening: Phillip Nash
Travel: Noo Saro-Wiwa (Lonely Planet/ Rough Guide)
Food: Tom Hunt (Forgotten Feast)
Columnist: Alfie Brown (Comedian)
Family: Elephant (poetry collective), Tom Mansfield
Dress Code : Smoking Jackets and Sunday Best.
Blankets and cats are encouraged. Prepare to get very comfy indeed. Sunday roasts. Prosecco. The perfect Sunday.
Published on 18 April 2013 by Wayne Feltham