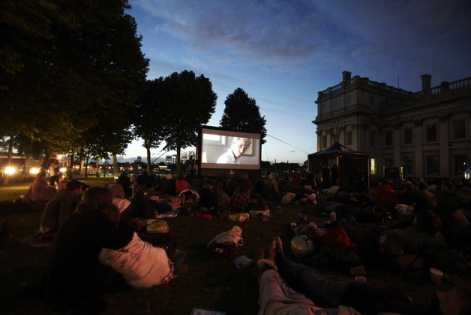 We are now very proud to announce a rather fine selection of silver screen treats to keep you entertained at this years Bestival!
Having recently unveiled an alluring array of alternative Bestival pleasures including The Grand Palace of Entertainment, the Slumbarave, Time for Tease, the Knees Up Tent, Mazy's Art Club, Club Dada and myriad sideshows and micro-venues, Celebrating the very best in moving pictures and sound, we've got it all from out and out classics to cutting edge cinematography as the Nomad Cinema, the Branchage Film Festival Takeover, the Lost Picture Show and the amazing Sol Cinema join us at Robin Hill Country Park from 6-9 September.

Rob da Bank says: "2012 may well be the year of Wildflife at Bestival – it's also the year of cinema down on the site… Our amazing partners Nomad have come up with such a strong bill from the classic Yellow Submarine to the Chemical Brothers insanely good film Don't Think not forgetting two cracking double bills from David Lynch and Quentin Tarantino. If that wasn't enough for any cinephile add in some superb soundtrack cinema from our mates in Jersey, Branchage plus the beautiful Lost Picture Show and Sol Cinema dropping by. Just make sure you remember to catch some bands too!"

Pioneers of the migratory movie experience, The Nomad Cinema brings magical and carefully curated film happenings to wide-eyed audiences of all ages and sizes at an inspiring range of beautiful, curious and downright strange screening locations, so we're over the moon that they're coming to Bestival with a selection of guilt-edged cinematic greats for your delectation.

Psychedelic animated treasure Yellow Submarine will kick off the first of Nomad's twilight double bills in all its vibrant animated Technicolor glory on Thursday evening, giving Bestival-goers a unique opportunity to see one of the defining music films of the last century on the big screen. Following hard on its heels will be the thumping dance beats of Don't Think documenting the Chemical Brothers' outstanding Fuji Rock set, with a special introduction by the film's director Adam Smith.

Friday's double bill comes courtesy of Quentin Tarantino, who single-handedly breathed life back into John Travolta's career and accomplished what many would consider impossible; two classics in two years. Beginning the screening with the iconic and endlessly quotable Pulp Fiction and finishing with the near faultless Reservoir Dogs, where Tarantino first proved his mastery of the marriage of soundtrack and dialogue: no one will ever forget Mr Blonde talking into that ear…

Saturday sees a brace of renowned graphic novels being tackled by the film world, warming up with Zack Snyder's faithful retelling of the most popular graphic novel of all time; Watchmen. Truly a sight to behold, Watchmen might not have been able to appease all the fanboys but it's definitely worth checking out. Completing the evening's entertainment is Sin City which brought the graphic novel into the public eye in a more dramatic way than ever before. Directed by Robert Rodriguez who also worked with the novel's creator Frank Miller, the film delves into the seedy world of prostitution, late night dingy bars, unsettled squabbles and dark revenge.

Nomad Cinema close their series with a rare double bill from David Lynch, high priest of midnight weirdness.

"It makes me uncomfortable to talk about meanings and things. It's better not to know so much about what things mean. Because the meaning, it's a very personal thing, and the meaning for me is different than the meaning for somebody else." - Lynch

Keep these wise words in mind, with these you will survive any Lynch film. Beginning with the near impossible to explain cult screen gem Mulholland Drive, a film that has provoked hundreds of interpretations the most common being that it is a series of dream sequences, and ending with the utterly unforgettable Blue Velvet, which will leave you dazzled by Isabella Rossellini and spellbound by Dennis Hopper, it will be a night of truly compelling big screen pleasures.

We are also delighted to be welcoming guest programmers Branchage to contribute to our diverse and exciting film line-up, with the Branchage Film Festival Takeover. Branchage is a young, ambitious and imaginative film festival in Jersey, renowned for its cutting-edge commissions and creative programming. The festival specialises in site-specific live sound-tracking, music and film screenings. So we're very excited that they will present both a daytime and late night takeover of the brilliant Lost Picture Show.

This 'Branchage Best Of' will include mind-bending psychedelic live movie soundtracks with Teeth of the Sea exploring an audio-visual relationship with 2001: A Space Odyssey and Bo Ningen playing to the Manga inspired anime Cat Soup. There's also a daytime folk special with the Memory Band playing tracks from classic British films such as The Wicker Man, and This Is The Kit playing to a BFI National Archive programme of films from 1912. Plus a live radio show by Jonny Trunk and some raucous cine-literate comedy to boot.

Chris Bell, Branchage Special Events Programmer said: "We're over the moon to be collaborating with Bestival and we've come up with a really cool, diverse bunch of events. A big thanks to Lost Picture Show who are kindly letting us take over their tent for some of the weekend."

And, speaking of the Lost Picture Show, they invite you to rest your weary wandering legs, sink into a mountain of velvet cushions and enjoy a film programme that spans the very best of the past century – quite literally the greatest films of all time!

Over three days and nights, you'll be taken on a journey from the Victorian experiments of Georges Méliès to the slick Hollywood product of today, via 20s musicals, 60s psychedelia and 70s schlock horror; Buster Keaton, Marilyn Monroe, David Lynch, Werner Herzog and many, many more.

Some of the treats in store include live rescores, deranged documentaries, very special live performances and an array of wildlife-inspired cinematic oddities. What would you like to see at Bestival?

Last but by no means least in Bestival's celluloid adventures is The Sol Cinema, a micro movie house powered entirely by the sun. This super cute retro-styled picture house holds just eight people at a time, showing everything from independent short films about the environment and music videos to silly snippets of quirky nonsense and everything in between. Each audience has their own specially selected film viewing curated live by the Sol Cinema team.

But that's not all, as we have two chances to showcase your short film at Bestival! Firstly, we're looking for an outstanding short film to help us Keep Bestival Green and Tidy. The winning film will be shown over the weekend on the main stage and the filmmaker will win a pair of tickets to Bestival.
Secondly, we're looking for funny, inspiring, uplifting, vintage, political, or just plain daft films to show in our micro solar powered cinema Sol Cinema.
Published on 16 June 2012 by Wayne Feltham