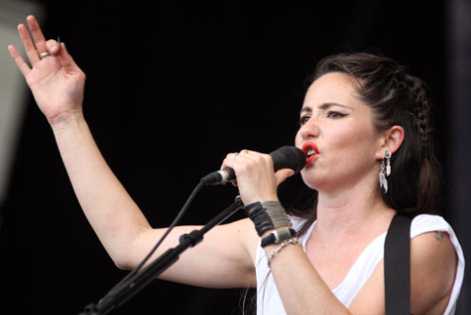 Shrewsbury Folk Festival is on course for another record breaking year after more than 85 per cent of weekend tickets were sold during its early bird price offer.
Last year's Shrewsbury Folk Festival sold out at the beginning of May but organisers believe that this year's ticket allocation could be gone even earlier this year.
The festival, held at the County Showground in Berwick Road over August Bank Holiday weekend, is attracting an increasingly international audience with visitors from Sweden, Switzerland, Canada, the US, Australia, Germany, France and Spain snapping up tickets.
This year's line up features singer songwriter KT Tunstall, Richard Thompson, Kate Rusby, Show of Hands, Dervish and Blowzabell among the top headliners who will play the main venues between August 24 to 27.
Other acts that will be performing include A9, Plainsong, Vin Garbutt,
Session A9, Jon Boden and the Remnant Kings, Fay Hield, Lau, Faustus, Jackie Oates, Jim Moray and Karine Polwart.
Anxo Lorenzo, a Spanish musician who plays the Galician Bagpipes, will lead the foreign artists that will also see the American Sweetback Sisters return after their successful 2011 debut, Abigail Washburn from Nashville, American Diana Jones, Texas based Jonathon Byrd, Baskery, a Swedish blues/southern rock band and Canadian duo Madison Violet.
Festival Director Alan Surtees said he was delighted how the festival had grown since it moved to Shrewsbury from Bridgnorth in 2006.
"It has gone from being a small event for local people and folk fans to an international attraction drawing a worldwide audience."
"I believe we have the best folk festival line up in the UK this year but it's not just that that attracts people to Shrewsbury."
"We have great facilities, fantastic stages with lighting and sound as our main lighting engineer has worked on the Lion King and many other West End shows and lots of other things going on such as the dance tent, workshop, children and youth festivals and craft fair."
"I think it's the atmosphere, the chance to get away from it all, whether you're old, young, single, with friends or a family in a safe and secure, friendly and inclusive environment that has really helped put us on the international map."
The festival features five music venues, a dance tent, dozens of workshops, a children's festival, Refolkus a dedicated youth programme for 12 to 25 year-olds, on-site camping, a craft fair and food village
Published on 01 March 2012 by Wayne Feltham