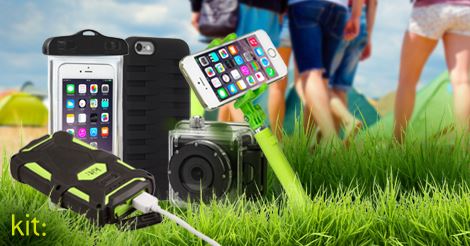 Summer is on its way, and Festival season is almost here! That can only mean that it is time to dust off your tent and start planning your incredible adventures! Whichever festival you are planning on going to, trying to decide which essentials to take with you is always a challenge when trying to fit your life into a backpack for a long weekend living outside. We think that there are five things you should definitely have to hand during your festival going, and here they are:
Kitvision Splash Action Camera
The Splash Waterproof Action Camera is perfect for if you're at a festival by the beach, or the rain is just pouring down. It's small enough to fit in your coat pocket or bag, and means you can capture your memories without draining precious phone battery. It comes with a range of accessories – and it has an RRP of just £69, so you have plenty of money left for those cheesy chips at the end of a night listening to your favourite music!

Kit Waterproof Power Bank
This Rugged Waterproof Outdoor Power Bank can be used for up to 3 full charges of your smartphone, and can also charge tablets. It has an IP67 rating which means that it is water and dust proof, so is suitable to come on your outdoor adventure with you. Completely rechargeable, it also has a built-in torch so that you can use it to find your way to your tent at night without tripping over tent pegs! This handy essential has an RRP of just £44.99.

Caseit Rugged Case
Anything surviving a festival in its previous form is a challenge with all the mud, travelling and bouncing around to your favourite bands, but your Smarttphone can survive them with the Rugged Case, even if nothing else does! Only when these cases have passed the Caseit rigorous multi-levelled testing, can they be Rugged Certified, so the experts can give you peace of mind. The cases are slim, sleek and subtle as well as being made from both silicone and polycarbonate to give two layers of protection. Rest assured that your device is safe from whatever life – and a 3am finish – throws at it. Grab yours from an RRP of £9.99.

Kitvision Pocket Selfie Stick
The Kitvision Pocket Selfie Stick can help you can capture memories with your friends, or hold up high to gain a great view of the crowd and stage! It is only 13.5 cm in length when folded down, which means allows plenty of room in your backpack for other essentials. When extended it can reach up to 63 cm - allowing you, with the built-in remote on the handle, to capture spontaneous group photos or selfies at a moment's notice. The Pocket Selfie Stick uses a wired connection, eliminating the need to pair via Bluetooth or charge the selfie stick! RRP £9.99

Caseit Waterproof Case
If the rugged case doesn't give you total piece of mind for the likes of muddy Glastonbury or Sandy Boardmasters, then the Caseit Universal Waterproof Pouch is a handy essential to give double protection to your phone. IPX8 rated means it is protected against water submersion, so you can rock on in the rain knowing at least your Phone and Bank Notes are dry! RRP £12.99.
Kit Accessories www.kitproducts.co.uk
Kitvision www.kitvision.co.uk
Caseit www.yourcaseit.com
Published on 13 April 2016 by Ben Robinson