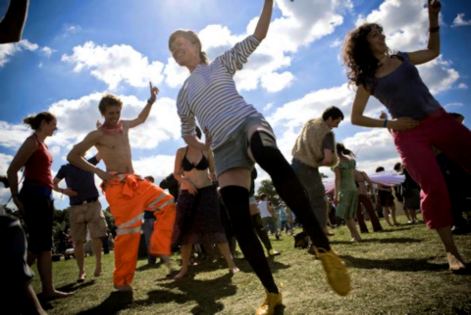 Not long to go now! Here's a stack of useful info to help you get the most from your Shambala experience. Take a look at the workshops programme, read our NEW campsite fires policy, remind yourself about tickets, PIN codes and gate times, know where to find your lost kids, and get a taste of what's new Contents:
1. Essential practical information
2. Useful information for families
3. Workshops programmes
4. What to bring and what not to bring
5. How to get involved
6. What's new and what not to miss!
1. ESSENTIAL PRACTICAL INFORMATION: Forgotten your PIN Code? If you have forgotten your PIN code or password, there is a password reminder gizmo on the website HERE (http://www.shambalafestival.org/password-reminder). Please remember to print your Vehicle pass and place it in your windscreen on arrival. Need info about tickets? For any ticket enquiries email info@theticketsellers.co.uk or ring 0844 870 0000. Arriving at the festival. Gates open: Thurs 2pm, Fri & Sat at 9am, Sunday 11am. Gates close at 10pm on all days. Late entries will be parked in a compound overnight. We are providing wheelbarrows (£40 deposit) and sporadic cargo trikes to assist you with luggage (on a donations basis). Please bear with us a peak times, you may have to wait as these are limited.
Got your Car Pass? Have you got your car pass? If you are coming by car, please remember to buy one in advance. Advance sales close Wednesday Midnight, and they cost more on the gate (£25). Just log into your ticket account and add it to your order.
The Shuttle Bus. The bio-diesel Big Red Shuttle Bus runs: From Market Harborough train station to festival site:
Thursday 26th: Midday - 9pm Friday 27th: 11am - 9pm Saturday 28th: 2pm - 5pm ONLY
From festival site to train station
Sunday 39th: 2pm - 5pm ONLY Monday 30th: 8am - 12noon (Site closes Monday midday)
Bear with us at busy times. It's free, but donations are welcome to help cover costs. Note that we cannot be responsible for any missed connections, so please leave enough time when leaving the site on Monday. Campsite fires are OK... This year we have been permitted by the estate to have fires in the campsites (but not the camper van field). We are on trial! Fires MUST BE OFF THE GROUND ONLY. The campsite stewards will put out any fires which are not off the ground.
We have teamed up with a firewok Supplier to offer firewoks at a special discount rate for Shambala. Visit http://www.shambalafestival.org/info/firewoks/ to buy one, and you can collect it onsite. They will also be selling sustainably sourced firewood. Recycling Please help us improve recycling rates by separating your rubbish in the bags provided, and/or using the brand new camp recycling centre. Over 70% of our festival waste emanates from the campsites. Our recycling rates are lowest for this area due to cross-contamination. The recyclers cannot go into black bags of mixed waste to separate as it's illegal. Remember anything you put in a black bag goes straight to landfill Showers We have the lovely Posh Wosh showers and the solar showers as usual. Please remember to only use bio (non-toxic) products so the waste water does not harm the ecosystem.
Programs (£4) A massive 84 page program with line-ups, map, profiles, and lots of useful and exciting information will be for sale with the 'welcome' crews on entry, at the public info point and at some stalls. A 50p donation from every program goes to maintaining wildlife habitats on the estate. And yes, it's printed on post consumer waste, chlorine free paper with vegetable inks... 2. FAMILY INFO: Nestled in the family camping area, you will find a safe haven for families with small children – The Family Yurt. Make yourself at home, meet new friends, feed your babies, dry your clothes if wet, join a workshop....If you need assistance in any way, a team of 'mamas' are on hand. Open 9am til 10pm. Come and meet us on the way into Family Camping. Remember to collect a blank wristband on arrival for your under 5's and write your phone number on it! Also available from the Family Yurt and Public Info Point if you need a replacement.
Lost Kids point is in the Kids Field HQ during the day (9am – 5pm) and First Aid tent (5pm – 9am).
If you have teenagers, please make sure you know where they are camping, and that they are effectively supervised.
3. WORKSHOPS:
Follow this LINK to check full workshops timetables on the website. (http://www.shambalafestival.org/whats-on/workshops/)
4. TO BRING OR NOT TO BRING:
Please do bring: Fancy dress, anything to have fun with....clothes for all weathers in case.
Please don't bring: Gazebo's – they eat up too much campsite space, and get left behind! Flares / fireworks or fire lanterns (sad we know, but cows die from eating the metal, and there has been a few serious fires recently from lanterns). Glass – we cannot allow glass on site for safety Anything to sell – we don't allow fly pitching. Nitrous Oxide / laughing gas Excessive booze – our bars will again be reasonably priced, ethically sourced and are a vital income for the event.
5. Get Involved!
There are many ways to participate. Here are just a few: Join the Carnival on Saturday – workshops taking place in the Carnival tent. Bring a guitar and find a little open mic stage to play on, like the Hurly Burly. Perform a poem @ Wandering Word Get jiggy with the flash mob dance-off Enjoy a workshop, or be part of a discussion session
6. What / not to miss in 2010: We can't say too much.....but look out for; the mind blowing woodland arts this year with new Ewok village of nets (Opens Friday 7pm – 5am, Saturday & Sunday 11am – 5am), the carnival procession (Saturday, 5ish – see program), the new Barn Nova stage, the Bling Bar (you won't find this on any map), Sankofa's Acoustic yurt, The Bunker Bar and much much more of course...
Or if you fancy some quiet time....the Shambala Association of Knitting welcomes you for a cuppa, discover the new and intimate GloStage in the Meadow, enjoy yoga and Tai Chi at the Yoga Dome, or join a walk and talk round the Hall's Victorian gardens with the Head Gardener (see program).
See you in a field sometime soon...campsites open Thursday 2pm.
Published on 06 February 2011 by Ben Robinson