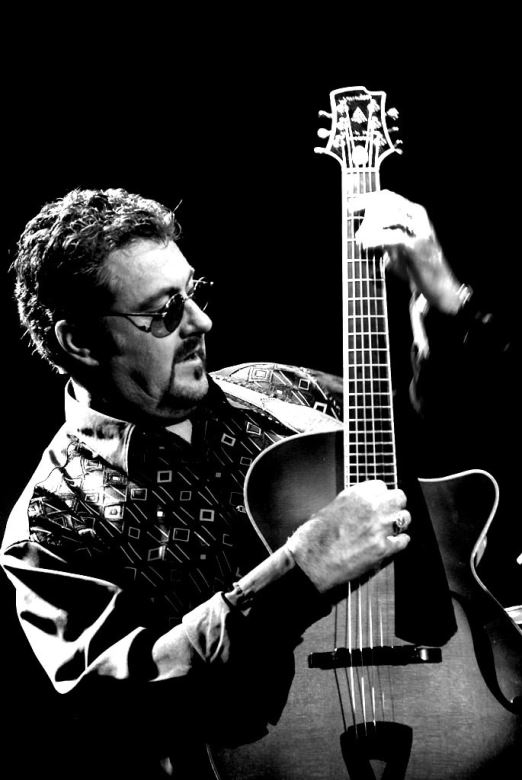 British guitarist Martin Taylor is one of the most highly regarded guitarists in the world. Specialising in jazz, he has performed in groups, guitar ensembles and as an accompanist to many of the world's most famous musicians. However, it is for his remarkable solo fingerstyle performances, in which he provides bass and chordal accompaniment in addition to a melody, that he is most renowned.
Taylor was born in Harlow, Essex in 1956 into a family with a musical heritage and a gypsy/traveller tradition, although he did not strictly lead the traditional gypsy lifestyle. It was no surprise then that, after being given a guitar at age 4 by his father, bassist William 'Buck' Taylor, he would develop a passion for jazz in general and Django Reinhardt in particular. Over the next few years the young Taylor would hone his skills and, by age 11, was playing regularly in his father's band. This experience made him determined to pursue a career in music and, after much persuasion, his parents allowed him to leave school aged 15 to try and achieve this ambition.
Over the next few years Taylor played in numerous bands, in holiday camps, various radio dates and on cruise ships (one cruise lead to the personal highlight of jamming with the Count Basie orchestra). Performing dates in and around London soon brought him into contact with fellow jazz guitarist Ike Isaacs who took the younger man under his wing. In addition to performing with Taylor as a duet, Isaacs helped develop his sense of jazz harmony and started him on the road to developing his unique fingerstyle technique. It was through Isaacs that Taylor was introduced to Stephane Grappelli, erstwhile violinist in Hot Club of France with Django Reinhardt. When one of Grappelli's regular band members sustained an injury, Taylor was invited to deputise for a few European dates. Suitably impressed, Grappelli invited him to join his band full-time. He accepted and performed and recorded with the Frenchman for the next eleven years.
His success with Grappelli allowed him more freedom in his career. He reduced some of his commitments and relocated to Scotland where he still lives (this explains why he is sometimes referred to as Scottish). Another benefit of his Grappelli association was that he began to tour North America regularly, allowing him to reach a new audience and to build new relations. He came to know musicians such as Chet Atkins and David Grisman, with whom he would both record, while another contact financed the production of an album, Sarabanda. The album received substantial airplay but financial difficulties at the record label prevented any major success.
This success was tempered by a difficult period in the mid 80s stemming from Grappelli suffering a heart attack. Although the Frenchman would go on to make a full recovery, it was some time before he would be able to tour again. Taylor found it difficult to replace the Grappelli gig with other work and fell into a period of financial hardship, forced to sell his guitars to survive. Depressed at being unable to provide for his family he became disenchanted with music, his guitars going virtually untouched for almost a year. He finally agreed a price for his one remaining guitar, a gift from mentor Isaacs, but, on the way to close the deal he pulled his car over to allow himself a final play of the instrument and suddenly found his passion for playing re-ignited. The deal was called off and this incident proved to be the catalyst in the next stage of his career.
Keen to avoid having to rely on other musicians for income, Taylor spent some time working on his fingerstyle technique before starting to perform as a solo act. These concerts were immediately successful, both critically and financially. So much so that, after a few years, he was able to stop touring with Grappelli and concentrate on his solo career, aided by a recording contract with Scottish label Linn. Primarily a manufacturer of high-end audio equipment, Linn felt that Taylor's intimate and intricate style and unique tone would ably demonstrate the quality of their equipment. Some of these Linn recordings are solo (Artistry and Portraits which featured Chet Atkins), some recorded as a modern jazz quartet (Don't Fret) and there is also a reunion album with Grappelli. The relative success of these albums, and his concert dates, raised his profile in the guitar community as his peers became interested in his unique style.
While Taylor is inspired by many guitarists, musically he relates more to pianists such as Art Tatum and Bill Evans and this influence can clearly be heard in his playing. His philosophy is that the guitar should be a complete instrument able to provide bass, harmony and melody. His arrangements and compositions are often influenced by composers like Nelson Riddle featuring moving lines and complex harmony as opposed to block chords with single note lines over the top. All this is achieved without compromising the melody which he considers the most important element in any arrangement.
From a technical standpoint Taylor's most distinguishing feature is his ability to syncopate rapid bass lines with the melody, often incorporating thumb upstrokes on the bass strings to give a distinct rhythmic quality to his playing, Combined with a unique tone and extensive use of harmonics, his playing is instantly recognisable. His solo version of Gershwin's 'I Got Rhythm' from his album Portraits, with its lightning fast double-time walking bass line, is probably the best example of all these qualities on a single recording.
Around the mid-90s Taylor started a band inspired by the music of Django Reinhardt and the Hot Club which he named Spirit of Django. He recorded and toured successfully with this band while continuing his solo commitments. At the end of the decade he signed for Sony, releasing two albums Kiss and Tell and Nitelife. After Sony he set up his own company P3 music with whom he has released the acclaimed Solo, and The Valley which features guest appearances by Bryn Terfel, Sacha Distel and Simon Dinnigan. Recently he has appeared with a few ensemble groups including the 4 Martins (with Martin Simpson, Martin Carthy and Juan Martin), Guitars 3 (with Neil Stacey and Martin Simpson) and Le Nouveau Trio Gitan (with Christian Escoude and Davide Reinhardt, grandson of Django). He has also worked with Bill Wyman's Rhythm Kings and composer Karl Jenkins.
Some of his other achievements include a British Academy of Composers & Songwriters 'Gold Badge of Merit', ten time winner of Best guitarist at British Jazz awards, Freeman of the City of London, honorary doctorate awarded by Paisley University, Scotland, and in 2002 he was appointed a Member of the British Empire (MBE) for services to jazz. In 1999 Martin founded an International Guitar festival which is held over three days in the village of Kirkmichael, near his home in Ayrshire. The festival includes concerts, recitals and tutorials from some of the world's best guitarists and emerging talents. The money raised is used to fund a Guitar for Schools program, a charity which provides equipment and tuition for local schools.
Martin Taylor is also a UK based stage hypnotist, who has created audio-guides to self-hypnosis.
Jazz Instrumental Guitar Smooth jazz