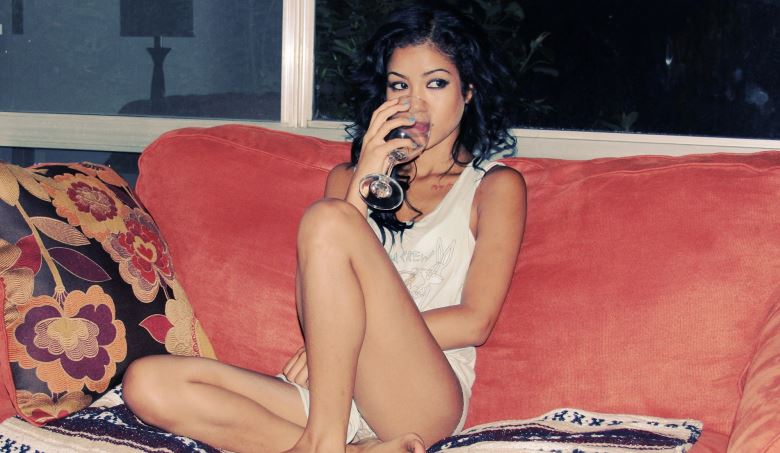 Jhené Aiko Efuru Chilombo (born March 16, 1988), better known as Jhené Aiko or simply Jhené, is an American singer-songwriter and recording artist from Los Angeles, California. Formerly signed to The Ultimate Group and Epic Records, she left both labels in order to continue her education. Aiko began her career being known as "Lil' Fizz's cousin", however she is not actually related to him. It was used as a marketing tool suggested by Sony and Epic to promote her through the R&B group B2K and attract an audience, though Aiko affirms that she and Lil' Fizz grew up together and were close like family.
On December 16, 2011, Aiko signed a recording contract with American record producer No I.D.'s record label Artium, distributed through Def Jam Recordings. She has been described as having gentle and pop-tinged vocals.
Jhené Aiko was born and raised in Los Angeles, California, the daughter of Christina Yamamoto and Dr. Karamo Chilombo (birth name Greg Barnes), a pediatrician. She is of mixed race background—her mother is of Japanese, Spanish, and Dominican descent, while her father is of African American, Yaqui, Choctaw, Cherokee, Navajo, and German Jewish descent. She often states her ethnicity as "Japanese, African American, Native American, etc." based on percentages but identifies with all parts of her heritage. Aiko has also stated that she has French ancestry and has stated regarding her ancestry, "I'm a quarter Japanese. That's the only percentage I know for sure because it's my grandfather's. And then everyone else is pretty much like mixed." Her older sisters Miyoko and Jamila were in the R&B group Gyrl and toured with Immature, who were signed to MCA/Silas Records. This led to Jhené's first meeting with producer Chris Stokes when she was five years old, and eventually he heard her sing. When B2K signed with Epic Records, Jhené was signed as well. She served as the opening act for B2K on their Scream Tour 3.
Aiko began her musical career contributing vocals to several B2K releases in 2002. She featured on tracks five through eight of the R&B group's remix album B2K: The Remixes - Volume 1. "Santa Baby", a cover she recorded, was also featured on their album Santa Hooked Me Up and she appeared as a guest vocalist on the song "Tease" from Pandemonium!. Her song "Dog" appeared as a bonus track.
Aiko also appeared in numerous music videos including O'Ryan's debut video, "Take It Slow", B2K's debut video "Uh Huh" and "Why I Love You", P.Y.T.'s "Same Ol' Same Ol' (Remix)" featuring Sarai, Play's "M.A.S.T.E.R. (Part 2)" featuring Lil' Fizz video and Morgan Smith's 2004 video "Blow Ya Whistle". Jhené also has songs featured on the soundtracks of Barbershop, The Master of Disguise, You Got Served, The Proud Family, and Byou. She released a video for her single "NO L.O.V.E" (re-recorded from Tha' Rayne version in 2002) which debuted on BET's 106 & Park when she was 15 years old.
Aiko was set to release her debut album, then-titled My Name Is Jhené, however the album was never released due to tension at the record label Epic, which ultimately led to Aiko asking to be released from the label. She then began to focus on school and continue her education.
In 2007, she made a return to music, in an interview she spoke on the choice saying "Shortly before I conceived my daughter, I stepped back into the field and took a meeting with a label head. In this meeting, I was innocently told, to 'sell' myself when walking into these meetings. "That's when I decided I would 'sail' myself rather than sell myself." Aiko released a mixtape on March 16, 2011 entitled Sailing Soul(s) via her official website, JheneAiko.com. All the songs on the mixtape were written by her, except "July" which was written by Micah Powell and most of the songs were produced by Fisticuffs, except "July" and "You vs Them" which were produced by Bei Maejor, "Real Now" which was produced by Roosevelt, "Do Better" which was produced by J. Lbs and "Growing Apart" which was produced by Tae Beast. The album's artwork was shot by photographer Jay 3. The mixtape also features collaborations from Miguel, Drake, and Kanye West, as well as others.
To promote the mixtape Aiko was joined by Grammy-nominated R&B singer Miguel on a one-off free secret tour on Sunday, July 15. The free tickets were given away at the Key Club box office on July 6 from 11AM-5PM on a first-come, first-served basis. The concert started at 7:00pm and finished as 9:30pm, lasting a duration of two and a half hours. On October 21, 2012 Aiko released a music video for the song "My Mine". Aiko also released a video for the mixtapes second track "Stranger". Datpiff certified the mixtape gold with downloads of 100,000. In 2011, she also began working closely with artists from Carson-based independent record label Top Dawg Entertainment such as Schoolboy Q and Ab-Soul.
In 2012, Aiko met with No I.D., record producer and vice president of A&R at Def Jam, who ended up signing Aiko to his Artium Records imprint through Def Jam. Aiko released the track "3:16AM" which was made available for digital download on iTunes September 4, 2012. The song was released as the first single from Sail Out. In 2012, Aiko was also the opening act on the highly anticipated "Life Is Good/Black Rage" concert tour headlined by fellow American artists, rapper Nas and singer-songwriter Lauryn Hill. In June 2013, Aiko was featured on the Big Sean song "Beware", which ended up reaching the Top 40 in the United States. This was her first song to chart on the US Billboard Hot 100. In October 2013, it was revealed Jhené Aiko would open for Canadian rapper Drake on his Would You like a Tour? concert tour. She had previously collaborated with Drake on his third album Nothing Was the Same (2013), lending her vocals on the tracks "Wu-Tang Forever" and "From Time".
Aiko then released her debut EP Sail Out, on November 12, 2013. "Bed Peace" featuring Childish Gambino was released as the album's second single on September 17, 2013. The single's artwork was inspired by John Lennon and Yoko Ono's Bed-Ins for Peace protest against the Vietnam War. The EP features guest appearances from American rappers Vince Staples, Childish Gambino, Kendrick Lamar, and Ab-Soul. The EP debuted at number eight on the US Billboard 200 chart, with first-week sales of 34,000 copies. On January 14, 2014, "The Worst" was serviced to rhythmic contemporary radio in the United States as the album's third single. On May 2, 2014 "The Worst" rose from three to one on the airplay Mainstream R&B/Hip-Hop, in doing so she became the first female artist to top the chart as a lead with a debut single since Jazmine Sullivan reached the same feat with "Need U Bad" in 2008. "The Worst" also rose forty seven to forty three on the Hot 100. The song peaked on the US Billboard Hot 100 at forty-three, becoming Aiko's first solo release to chart in the region, the song also peaked at number eleven on the US Hot R&B/Hip-Hop Songs.
On January 18, 2014, Aiko appeared on Saturday Night Live performing the song "From Time", with the episode's guest host, Drake. In a January 2014 interview with Vibe, Aiko announced her debut studio album Souled Out would be released in May 2014. However the album would be delayed. On March 16, 2014, Aiko premiered a song titled "My Afternoon Dream," along with an accompanying music video directed by Aiko and Krissy. It has yet to be revealed if the song, produced by Key Wane, will feature on the album.
On June 23, 2014, Aiko posted the cover art and a snippet of Souled Out's first single, titled "To Love & Die", on her official Instagram page. The single's artwork was described as "space-y" by Adelle Platon of Vibe magazine. The song was released for digital download on iTunes, the following day. On June 26, 2014, Canadian singer-songwriter The Weeknd, announced he would be headlining the "King of the Fall Tour", essentially a mini-tour across America in September / October 2014, the tour will consist of four shows and start on 19 September 2014 in New York, at the Barclays Center and end on October 10 in San Francisco, at the Bill Graham Civic Auditorium. Aiko and frequent collaborator Schoolboy Q, were confirmed as the tour's supporting acts.
Aiko is a Christian, having been baptized when she was 16 at the evangelical Pentecostal Foursquare Church. At the age of 20, Aiko became pregnant by American R&B singer O'Ryan and gave birth to her daughter Namiko on November 19, 2008. Before losing her brother Miyagi to cancer on July 19, 2012, Aiko recorded "For My Brother" on her laptop, which was initially intended only for her brother's ears. He died soon after hearing the record. On August 27, 2013, Aiko was involved in a car accident in Los Angeles along with her daughter Namiko, older sister Miyoko, and her daughter's father O'Ryan. Aiko suffered a broken wrist, chipped tooth and had stitches in her chin. Her daughter, however, was unharmed in the accident.
Pop Female vocalists Soul Rnb